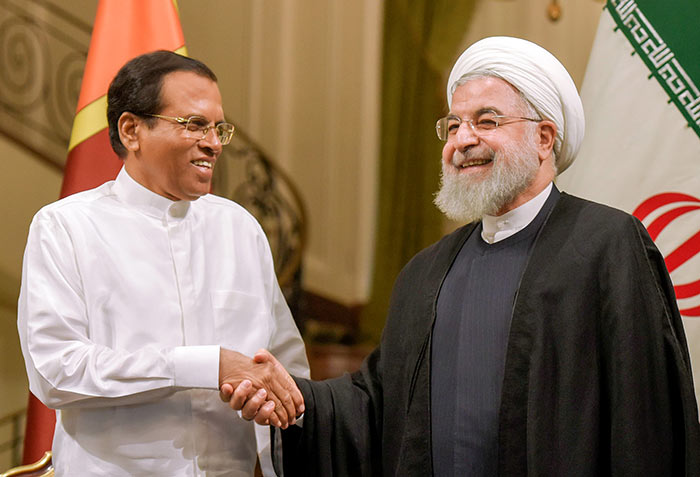 President Maithripala Sirisena who is on a two day state visit to Iran met with President Hassan Rouhani of Iran yesterday (13).
President Sirisena was warmly received by the Iranian President when he arrived at the Saadabad Palace in Tehran. President Sirisena was received with a Guard of Honour at the Palace.
After a cordial meeting between the leaders, the bilateral discussions were held.
During bilateral discussions, two delegations led by. President Hassan Rouhani and President Sirisena, reviewed long standing bilateral relations in political, trade, economic and socio-cultural spheres.
President Sirisena, expressing his views said that the assistance of the government of Iran is expected for the economic prosperity of Sri Lanka.
Both the leaders were held discussions in further enhancing the  ties in the fields of oil, tea and tourism.
Since 50 years, Iran is providing its support to Sri Lanka  in the field of oil refinery and the President said that the government of Sri Lanka  expects technical assistance of Iran in this regard in future too, to further develop this sector.
Iran is the 2nd largest export destination of Sri Lanka in the Middle Eastern region and tea is accounted for around 90% of total exports and the President drew the attention of the Iranian President in this regard and he promised to make positive actions to increase trade.
Cooperation in the fields of Railways, establishment of direct air links and tourism were among other areas discussed by both leaders.
During this meeting President Sirisena pointed out the importance of establishment of bank links with Iran to make uncomplicated banking transactions.
Iranian President stated that under the Joint Commission for Economic and Technical Cooperation the trade between the two countries will be continued in the future in a stronger manner.
Both leaders agreed to continue with the agreement signed in 2004 with the objective of further enhancing economic and trade ties.
As the member states of the Non-Aligned Movement and the Asia Cooperation Dialogue, the leaders pledged to work in cooperation in eliminating global terrorism as well as in combating illicit trafficking in narcotic drugs.
During this meeting President Sirisena specially emphasized that his government has committed to enhancing its engagements with the international community in all areas of cooperation as Sri Lankan government continues to follow non-aligned foreign policy.
President Sirisena recalled the long standing bilateral relations between the two countries.
The Sri Lankan President extended his gratitude to the Government of Iran for providing their assistance for the Uma Oya Multipurpose Development Project, railway development and for the Rural Electricity Project.
Following the bilateral discussions five MOUs signed in the areas of:
Health, Medical Science, Pharmaceutical and Medical Equipment:
Metrology, and Training.
Combating illicit trafficking in narcotic drugs.
Cinema and Television.
Culture, Science and Technology
(President's Media)