Is Yasmin Sooka biased and prejudiced against Sri Lanka
Posted by Editor on October 27, 2014 - 10:24 am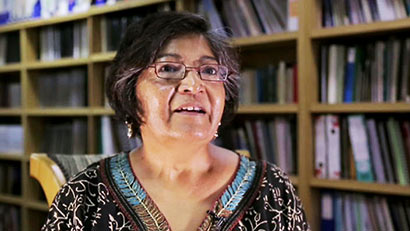 Yasmin Sooka was selected by Ban Ki Moon the UN Secretary General as one of his 3 member panel to advise him on the last three months of the conflict in Sri Lanka. That report was released in March 2011. Thereafter, Yasmin Sooka's name has appeared numerous times associated with a globally funded campaign against Sri Lanka. It is for the readers to take stock of the connections and determine themselves the global nature of the vilifying campaign a country that eliminated terrorism has been subject to.
Yasmin Sooka is the Executive Director of the Foundation for Human Rights in South Africa – set up by the European Union in 1996. It is funded by the European Union (and by Belgium). The Foundation receives funding from Ireland, CARE, international humanitarian agency which is funded by EU, UN bodies and even the American Foundation. Thus, Sooka's foundation is not only funded by EU it is a EU created entity. If it is a EU entity and Sooka is an EU employee, EU also voted against Sri Lanka en bloc at UNHRC resolutions. http://www.interventionism.info/en/CSI-Position-Paper-on-the-Sooka-report
Yasmin Sooka is the newest member to the Advisory Council of the Sri Lanka Campaign for Peace and Justice. Interestingly enough others in the Council include:
Lakhdar Brahimi – also a member of "The Elders" & the Global Leadership Forum; Governing Board, SIPRI; Board of Trustees, International Crisis Group and Global Humanitarian Forum.
Basil Fernando – Executive Director of the Asian Human Rights Commission (AHRC) and the Asian Legal Resource Centre (ALRC).
Bruce Haigh – former Australian diplomat,

the patron of Centre for Peace and Conflict Studies in which his colleagues are proved supporters of the LTTE (Brahmi Jegan, Dr. Sam Pari)

Dr. Sam Pari is designated by the GOSL as a terrorist supporter under UNSC Resolution 1373
Bianca Jagger – a member of the Executive Director's Leadership Council for Amnesty International USA, the Advisory Committee of Human Rights Watch America. Amnesty International accepted $50,000 from Canadian Tamil Congress also designated as a LTTE front by the GOSL under UNSC Resolution 1373
J. S. Tissainayagam – now living in the US

Yasmin Sooka's report 'An unfinished war: Torture and Sexual violence in Sri Lanka 2009-2014' was a politically motivated report. In her own words she says "we released the report in time before the Geneva Resolution because we wanted to influence the Geneva resolution". The report is funded by the British Foreign Office through the Bar Human Rights Committee of England and Wales. From 40 selected cases most of whom were former LTTE cadres seeking asylum Sooka appeals to the UN Secretary General's Special Representative on Sexual Violence in Conflict and the Special Rapporteur on Torture to initiate a special inquiry into rape and sexual violence in Sri Lanka

Yasmin Sooka in March 2014 joined Archbishop Desmond Tutu, Bishop Joseph Rayappu, R. Sampanthan, CV Wigneswaran and 35 others jointly addressed to the UNHRC to set up a Commission of Inquiry to investigate war crimes and crimes against humanity committed by Sri Lanka. Yasmin Sooka was the 2nd signatory. The petition was organized by the Sri Lanka Campaign for Peace and Justice of which Yasmin Sooka happens to be a member of the Advisory Council.

http://dbsjeyaraj.com/dbsj/archives/28557

In March 2014, the Sri Lanka Campaign for Peace and Justice released another report titled "Crimes against Humanity in Sri Lanka's Northern Province". The foreward of the report was by the Centre for Justice and Accountability and surprise surprise Yasmin Sooka endorsed it alongside other familiar names UN Special Rapporteur on Torture Juan Mendez, former UN Special Rapporteur on Torture Manfred Nowak, and international criminal law and human rights law scholar Professor William Schabas.

http://cja.org/downloads/Crimes%20Against%20Humanity%20in%20Sri%20Lanka_s%20Northern%20Province.pdf
Yasmin Sooka was a guest speaker at the 2013 Global Tamil Forum conference in UK. She was introduced as 'comrade'. She was joined by TNA's Sambanthan and Sumanthiran, Other speakers were
Professor William Schabas who appeared on the Channel 4 first video, Prof. Joshua Castellino, Head of Law Department at Middlesex University, and Dr. Elvira Dominguez Redondo expert on R2P, Dr. Manivannan, an Associate Professor and Sri Lanka specialist at the University of Madras, in India and Ms Yolanda Foster of Amnesty International.
Yasmin Sooka was also quite vociferous in campaigning to boycott the Commonwealth Heads of Government Meeting in Sri Lanka in 2013. "Sri Lanka is quite frankly descending into a state where the rule of law no longer holds sway." She praised Canada for saying it would boycott the November CHOGM meeting unless Sri Lanka investigates suspected war crimes.
Yasmin Sooka wrote an article to the Mail&Guardian "Sri Lanka : Living in Fear of the White Vans" (31 Mar 2014) http://mg.co.za/article/2014-03-31-sri-lanka-living-in-fear-of-the-white-vans. Her wild sense of imagination is revealed in the lines "All the indications are that the Sri Lankan government now has sophisticated facial recognition software for identifying those of interest. They also have an extensive database now of Tamils from the former conflict areas to which they can match photos. Every survivor of the war was photographed, their personal details recorded in the giant internment camp in 2009. We now know that it's standard operating procedure for the security forces to photograph and fingerprint all those they abduct illegally in "white vans". This includes often photographing their bodies for scars from the war or previous torture sessions."
In 2012 New York Times published an article co-authored by MARZUKI DARUSMAN, STEVEN RATNER and YASMIN SOOKA titled 'Revisiting Sri Lanka's Bloody War" – the same trio that Ban Ki Moon selected as his Expert Advisory Panel. The article came months following the release of the Expert Panel report. However, what the trio is accused of is the manner they have joined the manipulation of words. The Darusman report of 2011 wrote of 'credible allegations'. However the article co-authored for the New York Times is speaking about 'credible evidence'. Not only that they have lied by saying 'in our report' – In our report, we found credible evidence that both sides had systematically flouted the laws of war, leading to as many as 40,000 deaths. http://www.nytimes.com/2012/03/03/opinion/revisiting-sri-lankas-bloody-war.html?_r=0
Yasmin Sooka was also a member of Ban Ki Moon's Panel of Expert Advisors. She claims that 70,000 died during the last phase of Sri Lanka's conflict and there are over 147,000 unaccounted for. Yet the UN High Commissioner for Human Rights, Navi Pillay has quoted 2,800 deaths by 13 March 2009. The UN UN gave the figure 6,432 deaths by 24 April 2009. Sooka as member of the Ban Ki Moon Panel reported in 2011 a UN source saying that 7,721 had been killed between August 2008 and 13 May 2009.
It is not hard to miss the manner in which international personalities come out with scathing attacks against Sri Lanka and sooner than later they appear as distinguished members in organizations and societies famed for tarnishing campaigns against Sri Lanka.
It does make any to wonder what must transpire for people who have never visited Sri Lanka, who don't know a Tamil from a Sinhalese, who can't tell which language is Tamil or Sinhalese suddenly become expert enough to issue derogatory statements against Sinhalese and their crimes against the Tamils. A lot of bucks must be moving hands and questions how far money determines policy of governments and even the UN decision making.
Nevertheless, in the case of Yasmin Sooka, the examples given and the connections outlined provide ample source for readers to determine the dangerous nature of the campaign to divide Sri Lanka.
– by Shenali D Waduge
Latest Headlines in Sri Lanka