I will expose more corruption: Champika
Posted by Editor on October 27, 2014 - 9:55 am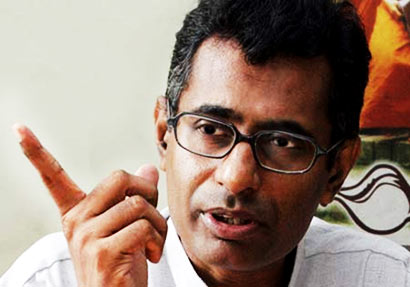 Energy Minister Champika Ranawaka said that he was prepared to expose more large scale frauds and corruption in detail, in the electricity and petroleum sectors involving billions of rupees.
Addressing a gathering at the launch of his book Power and Power at the Blue Sky Hotel in Kurunegala on Saturday, he said that government was unable to give concessions to the people in respect to the petroleum prices and the electricity cost due to a few people who dominate these sectors.
He said that he has not included some details of corruption in the electricity and petroleum sectors in his 1060 page book.
He said that he had the opportunity now to reveal those withheld parts after certain remarks made by certain people recently.
The meeting was organised by the Kurunegala District Organisation of the Jathika Hela Urumaya, the Minister stated that not all in the Ceylon Electricity Board (CEB) or Ceylon Petroleum Corporation (CPC) were corrupt, though there seems to be such a perception among the people in the country.
However, he added that large scale fraud and corruption that could harm the national economy had been taken place in these two institutions and that he had exposed them in his book.
"An issue has been cropped up on the importation of coal to Sri Lanka which I have not included in my book, but now I have the opportunity to expose the matter, since certain officials, the politicians who run behind those officials, casino owners and certain media run by those casino owners are of the view that they could control the politics of the country and assassinate the characters of national leaders," the Minister stated.
Mr. Ranawaka said that the slogan of the people in any election should be that "we will pay only our bills and not those of others'." Electricity consumer is not prepared to pay others' bills and bear the burden of others' sins, he added.
The Minister said that one would be able to plunder five billion rupees by setting aside one rupee per one litre of petroleum through manipulation, since the country used five billion litres of petroleum per year.
He therefore stressed the need to have a powerful technical audit process and a process to end the state of impunity in economic field.
(Daily Mirror)
Latest Headlines in Sri Lanka