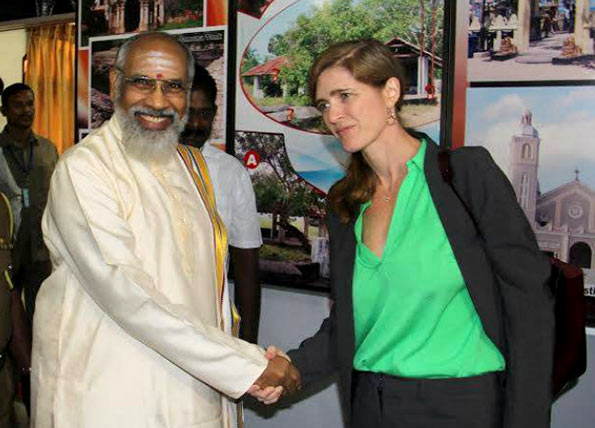 US Representative to the United Nation Samantha Power, who is on a three-day visit, Tweeted that she urged Chief Minister of Northern Province C.V. Wigneswaran to 'help reinforce Sri Lanka's precious moment for reconciliation and rebuilding'. She assured that US President Barak Obama would do its best to restore peace and assist in rebuilding the country.
In response to the NP Chief Minister's observations, Power responded that she could understand the problems everyone is facing and she would urge the government to take all necessary steps to bring about a peaceful solution.
She also Tweeted that she had met the Governor, Northern Province, Palihakkara and reiterated that demilitarization in Jaffna cannot wait.
According to the Northern Province Chief Minister, Power assured the northerners that she would urge the government to help assist the NPC in rebuilding.
Power met the Chief Ministe at his office yesterday. The Chief Minister meeting the media after she left his office had emphasized that they had a cordial discussion."She represents a powerful country and Ambassador to the UN, and it was great meeting' her," he had added.
The Chief Minister has told Power that the heavy militarization was the main setback. "Heavy military presence is disturbing the civil life. They have grabbed the lands and houses of people who lived before. Even after six years completion they are still occupying these houses and lands, he had pointed out.
Power had also reiterated that life unlike before has returned to normalcy for the people in Sri Lanka and she is happy about it.
(Source: Ceylon Today – by Sulochana Ramiah Mohan)