James Packer's Crown pulls plug on $400m Sri Lanka casino plan after Colombo scraps tax concessions
Posted by Editor on January 31, 2015 - 12:59 pm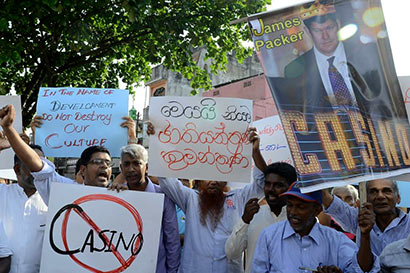 James Packer's Crown Group says it will not go ahead with a proposed plan to develop a $400 million luxury hotel and resort in Sri Lanka, following a decision by the government in Colombo to scrap tax concessions for the project.
On Thursday Sri Lanka's new government decided to cancel generous tax concessions for three foreign resort developments – including Mr Packer's resort – and said it would not issue them licenses to run casinos.
A spokeswoman from Crown said the company respected the decision and on that basis the project would not be going ahead.
The concessions were given under the former government of Mahinda Rajapaksa but critics in Sri Lanka opposed the move to give tax breaks to foreign gaming ventures.
Speaking to politicians, Sri Lanka's new prime minister Ranil Wickremesinghe said the government would withdraw the tax breaks for the developments with immediate effect.
"We will not allow casinos on their premises," he said.
The previous government had offered the concessions in an effort to turn the Sri Lankan capital into a regional gaming hub.
The opposition, Sri Lanka's influential Buddhist leaders and some members of Mr Rajapaksa's government criticised the move.
Mr Rajapaksa lost office last month. His regime had been accused of becoming authoritarian and corrupt.
The new coalition government, which includes defectors from Mr Rajapaksa's administration, has announced a 100-day constitutional reform agenda which includes measures to increase transparency and end corruption.
ABC/AFP
Latest Headlines in Sri Lanka