Japanese Envoy Yasushi Akashi Calls on President Rajapaksa
Posted by Editor on December 9, 2013 - 2:20 pm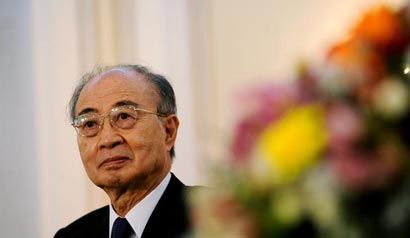 Senior Japanese diplomat Mr. Yasushi Akashi called on President Mahinda Rajapaksa this morning at the President's House. The President and Mr. Akashi discussed a number of matters including progress on the Lessons Learnt and Reconciliation Commission (LLRC), the overall reconciliation process and general bilateral relations between Sri Lanka and Japan.
The last time Mr. Akashi met President Rajapaksa was in Japan during the President's official visit to the East Asian country earlier this year. Following that meeting, Mr. Akashi said that "the post-conflict development in Sri Lanka was phenomenal."
"I think everyone tends to judge situation from his or her own background," Mr. Akashi further commented while in Japan. "That is why I feel that it is rather unfair for some developed countries, who have much more resources than Sri Lanka, to express impatience with Sri Lanka and its development. This is not fair, and this is not objective. Certainly, I am sure that the government and people of Sri Lanka would wish to move much more rapidly, but with Sri Lanka's limited resources, what it has done by itself is amazing."
Ambassador of Japan in Sri Lanka Mr. Nobuhito Hobo accompanied Mr. Akashi.
Minister of External Affairs Prof. G.L. Peiris, Secretary to the President Mr. Lalith Weeratunga, Secretary to the Ministry of External Affairs Mr. Karunatilaka Amunugama and Sri Lanka's Ambassador in Japan Admiral (Rtd.) Wasantha Karannagoda were present for the meeting.
(Courtesy: President Media)
Latest Headlines in Sri Lanka