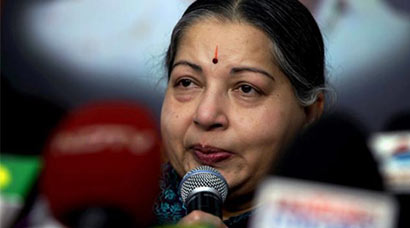 Chennai: Taking up the latest instance of arrest of six fishermen by the Lankan Navy, Tamil Nadu Chief Minister Jayalalithaa today sought the Centre's intervention for their release, and called for retrieval of Katchatheevu.
In a letter to Prime Minister Narendra Modi, Jayalalithaa said retrieval of Katchatheevu, an islet ceded to Lanka by India in 1974, was the permanent solution to this 'vexatious' issue. Taking up today's arrest of the fishermen, Jayalalithaa said a new trend had emerged wherein fishing boats stranded mid-sea due to weather conditions or mechanical failure besides those going for their rescue were being targeted.
"These boats in distress and Indian fishermen on board are being apprehended and remanded to custody in Sri Lanka. This is a totally inhumane approach and completely against the ethics of maritime search and rescue operations," she told Modi. The boat carrying six fishermen from Ramanathapuram district was drifting due to a technical snag when they were held by the Lankan navy. In two recent instances, 15 fishermen were apprehended from boats which were in distress mid-sea, she said, adding, they were now in that country's custody.
The Sri Lankan strategy of keeping the apprehended fishing boats of the fishermen in its custody had "snatched away" the source of their meagre livelihood and "is also fuelling despondency and great unrest amongst the fishermen," Jayalalithaa said. She said 63 such boats were deteriorating due to lack of maintenance on a daily basis. With the northeast monsoon due to arrive shortly, these 'precariously berthed' impounded boats will suffer irreparable damage if not released immediately, she said.
These incidents once again highlighted the importance of retrieving Katchatheevu, she said. "The stand of the Government of Tamil Nadu is that Katchatheevu has always been a part of India, geographically, culturally and historically. "The permanent solution to this vexatious issue lies in retrieving Indian sovereignty over Katchatheevu and in recognizing the rights of our fishermen to fish in their traditional fishing grounds of the Palk Bay," she said.
Jayalalithaa urged Modi to immedeiately take up with Sri Lanka the release of all 21 fishermen and 64 impounded boats and expressed hope that his government would find "decisive and permanent solution to this sensitive livelihood issue." (Source: India.com)