Jayalalithaa nursing PM ambitions
Posted by Editor on December 21, 2013 - 7:46 am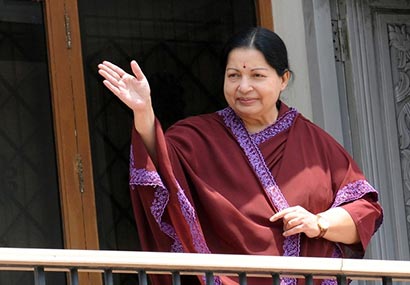 All India Anna Dravida Munnetra Kazhagam (AIADMK) supremo and Tamil Nadu Chief Minister, J. Jayalalithaa, made her prime ministerial ambitions clear on Thursday (19).
At a general meeting of the party in Chennai, it was resolved that there have been PMs from other States like Uttar Pradesh, Punjab, Gujarat and so forth, and this is the time when somebody from Tamil Nadu must lead the country.
Highlighting her party's victorious march to power in the State on many occasions, Jayalalithaa said, "Our party was converted into the
St. George's Express and has reached St. George Fort (Tamil Nadu secretariat) six times. We had successful journey, three times under MGR's leadership and thrice under mine. Now the 2014 elections are approaching. We should change ourselves into the Red Fort Express to reach the Red Fort in Delhi."
Hinting at the support from other parties for a possible formation of a Third Front, she said, "People have given us the green signal. I am there to be the engine driver. We would take them safely to reach Delhi."
It is to be noted that Jayalalithaa has said a curt 'no' to the recent overtures of BJP prime ministerial candidate, Narendra Modi, and has refused to enter into a pre-poll truck with the party. It has decided to go alone in the Lok Sabha polls.
It was also decided in the meeting that the party must strive to win all 40 seats in Tamil Nadu in the 2014 Lok Sabha polls and decimate Karunanidhi.
The party leaders envisage a greater role for their supremo at national level and want Jayalalithaa to take up the reins at the Centre to ensure the rights of the Tamils. Even Jayalalithaa has on many occasions said there would be a regime change at the Centre and that she would throw out the anti-people policies of the Congress-led UPA.
At AIADMK's general meeting, partly leaders criticized the Centre's stand on CHOGM and fishermen issue and also for its offer to train Sri Lankan Naval officers, while Jayalalithaa was given the power to decide on alliance. In a style which seemed to have been borrowed from Narendra Modi, she hit out at the weak policies of the Central Government. "Not just China but even small countries like Sri Lanka are threatening India. The Centre is perplexed and not able to handle. There is a need a strong leadership to handle economic and other crises. A strong government is needed to put down the other countries," she said.
In the aftermath of the ethnic civil strife in Sri Lanka, Jayalalithaa has claimed to have brought to the Prime Minister's attention the strong sentiments in Tamil Nadu on a range of issues relating to India's relations with the present regime in Sri Lanka. The Tamil Nadu Legislative Assembly has already passed four resolutions condemning the continuing discrimination against the Tamil minority in Sri Lanka and violation of their human rights.
(India Today)
Latest Headlines in Sri Lanka