Jayawardene ton sinks outclassed Canada
Posted by Editor on February 21, 2011 - 9:33 am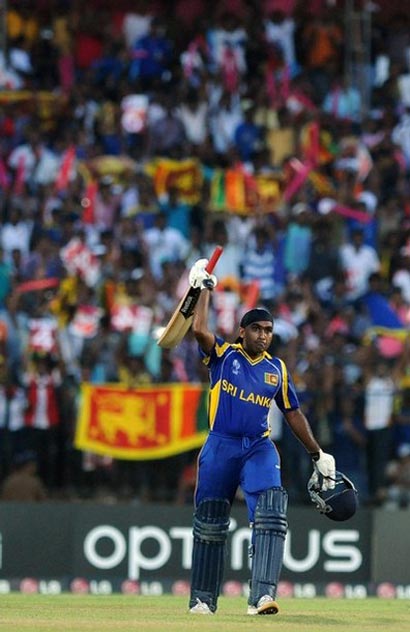 Sri Lanka 332 for 7 (Jayawardene 100, Sangakkara 92) beat Canada 122 (Cheema 37, Kulasekara 3-16) by 210 runs
For the many who slammed the ICC's decision to expel Associates from the next World Cup, this was a bad day. After Kenya were embarrassed by a modest New Zealand team, Canada desperately needed to showcase why minnow teams belong on the global stage. Instead they were overwhelmed by 210 runs against Sri Lanka, who opened their World Cup campaign as emphatically as their co-hosts India did on Saturday.
Mahela Jayawardene stroked his way to the fastest World Cup hundred by a Sri Lankan, sharing a 176-run stand with his captain Kumar Sangakkara, before the home side's pace bowlers rushed through a hapless Canadian line-up to deliver a crushing victory.
After India's fervoured opening in Mirpur, proceedings at Hambantota felt much more leisurely, and with a combination of sight screen problems and a few injuries, it took the visitors four hours to get through their fielding effort. For the first 20 overs of Sri Lanka's innings the scoring rate was almost as sluggish – despite a 59-ball half-century for Tillakaratne Dilshan – as Canada demonstrated the ideal model for Associate cricket. Disciplined dobbers combined with swift fielding and a slowish track to keep Sri Lanka in check.
It was only when Jayawardene arrived that Sri Lanka's campaign really kicked into gear. He was in total control, threading the spinners through the finest gaps and caressing boundaries at will. Sangakkara was not quite as fluent, needing 47 deliveries to find his first boundary. He survived two moments of alarm, when he was dropped on 12 by by 16-year-old Nitish Kumar, on as a substitute, and again on 48 by the rotund legspinner Balaji Rao.
Jayawardene barely mistimed a ball but twice survived reviews from Canada captain Ashish Bagai, who was convinced he was out caught behind. On both occasions the appeal was spontaneous and exuberant but the UDRS – without Snicko and HotSpot – revealed nothing. With those behind him, Jayawardene's glances, chips, pick-up-sweeps and even a reverse-thwack toyed with an attack that faded under pressure.
There was no route back for Canada as the pair cashed in against a tiring attack. It's becoming one of cricket's more quirky stats that Sangakkara can't seem to reach three figures in ODI cricket anymore. His last century was in June 2008 and he has now gone 60 matches without a hundred, despite scoring heavily over the period.
He had the ideal opportunity today, but inexplicably popped a gentle return catch to John Davison when eight runs short. By this stage the only trouble for Jayawardene was the heat and he looked exhausted as he crawled the single to bring up his record-breaking century.
While victory was always going to be beyond them, a competitive showing with the bat would have lifted the spirits of a dank World Cup day but Canada's top order folded against a sparky new-ball pairing. The hulking Thislan Perera proved too quick for John Davison and Zubin Sukari before returning later to snare Bagai. The looming threat of rain forced Sangakkara to swap seam for spin to rush to 20 overs – the minimum needed to constitute a match – but once that threat cleared Sri Lanka's job was as good as done.
At 40, Davison has had plenty of experience but appears to be trading off the World Cup century he made eight years ago. In the build-up Canada were keen to point to the clutch of youngsters who had come through their Under-19s side but come the day Kumar and Hiral Patel – their two bright batting talents – were left out. After today's showing both can expect to make their senior World Cup debuts soon.
Rizwan Cheema offered a glimpse of the big-hitting that gave England a fright but by that stage that game was meandering towards the inevitable. After two matches and two crushing defeats, the Associates are doing the ICC's case no harm at all.
Source: ESPN Cricinfo – Pix by Getty Images
Latest Headlines in Sri Lanka