Sangakkara and Jayawardene bury Canada
Posted by Editor on February 20, 2011 - 7:32 pm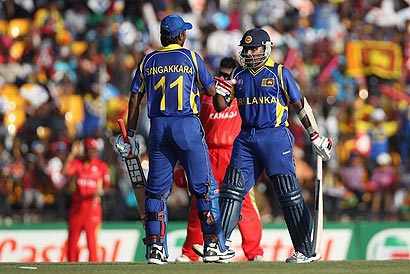 50 overs Sri Lanka 332 for 7 (Jayawardene 100, Sangakkara 92) v Canada
Mahela Jayawardene pulls out the reverse-sweep, Sri Lanka v Canada, Group A, World Cup 2011, Hambantota, February 20, 2011
Mahela Jayawardene and Kumar Sangakkara overwhelmed Canada's bowlers to launch Sri Lanka's World Cup bid in fine style. The pair formed the backbone of the 332 for 7 with Jayawardene making the fastest hundred by a Sri Lanka at the World Cup and Sangakkara finishing with an 87-ball 92.
After Kenya's pathetic showing earlier in the day Canada had an important job flying the Associates flag that is under attack from the ICC for the next World Cup but in the face of two of the classiest batsmen in the competition their discipline wilted. India thrust down their marker as the tournament's frontrunners with an imposing display in Mirpur on Saturday and Sri Lanka have announced their claims as emphatically, though without quite the frenetic showing of the co-hosts.
Being a coastal town, Hambantota has a leisurely feel to it and despite a fluent half-century from Tillakaratne Dilshan the cricket followed in that vein for the first half of Sri Lanka's innings. Canada's army of dobbers and spinners did a decent job on a sluggish track restricting the rate. Upul Tharanga was bogged down before falling victim to a mix-up with his opening partner. Dilshan struck eight boundaries in his half-century but slashed a wide Rizwan Cheema delivery straight to deep point and at that point Sri Lanka were wavering.
Jayawardene immediately set about lifting the run rate and manipulated the ball superbly while Sangakkara was still searching for his best form. With glances, chips, pick-up-sweeps and even a reverse-thwack, Jayawardene toyed with a Canadian attack that faded under pressure. He barely mistimed a ball but twice survived reviews from Canada captain Ashish Bagai, who was twice convinced he was out caught behind. On both occasions the appeal was spontaneous and exuberant but the TV replays suggested little. With Snicko still not available and HotSpot ruled out due to financial bickering the UDRS is limited and Bagai felt aggrieved.
Sangakkara, too, had moments of alarm. He was dropped on 12 by by 16-year-old Nitish Kumar, on as a substitute, and again on 48 by the rotund legspinner Balaji Rao. Both proved costly for Canada as Sangakkara, who took 47 deliveries to register his first boundary, then cashed in. On a big ground sixes were hard to come by but one stroke, an eased drive over Rao's head, cleared the rope by a distance.
It's becoming one of cricket's more quirky stats that Sangakkara can't seem to reach three figures in ODI cricket anymore. His last century was in June 2008 and has now gone 60 matches without a hundred, despite scoring heavily over the period. He had the ideal opportunity today, but inexplicably popped a gentle return catch to John Davison when eight runs short.
By this stage the only trouble for Jayawardene was the heat and he was exhausted by the time he crawled his record-breaking single to bring up his century. It was the fourth fastest in World Cup history and beat Sanath Jayasuriya's 85-ball effort against Bangladesh.
Wickets tumbled and tempers frayed in the batting Powerplay that followed – with Angelo Mathews getting into a needless confrontation with Harvir Baidwan – but runs continued to flow and at 332, Sri Lanka's job is as good as done.
Sahil Dutta is an assistant editor at ESPNcricinfo
Latest Headlines in Sri Lanka