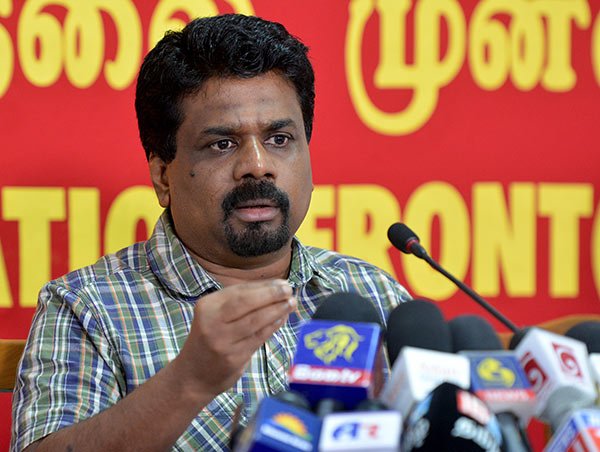 The Joint Opposition group is now clearly divided into two camps known as the Mahinda Camp and Gota Camp , JVP leader MP Anura Kumara Dissanayake said.
Since it is mandatory to close all possibilities for Mahinda to become the state leader again, the Gota Camp was opposed to the abolition of the Executive Presidency through the 20th Amendment to the constitution and each camp is involved in a desperate attempt to promote its own leader, he said.
Dissanayake was speaking to the media after calling on the Malwatte prelate, Most Ven.Thibbotuwawe Sri Sumangala thera in Kandy yesterday to brief him on the 20th Amendment tabled in Parliament by the JVP. He said the JVP was of the view that the Executive Presidency should be abolished and a parliament centred administration should be introduced as it was more fitting for the country.
If the 20th Amendment was approved, Mahinda Rajapaksa could enter parliament on people's approval and at as the leader of the cabinet of Ministers.
If this happened Gotabaya's dreams would be shattered resulting in a crisis in the Mahinda camp for its leadership.
"If the 20th amendment was approved, parliament has to be dissolved before March 9 next year and a new general election had to be called. In such an eventuality, the lifetime of Ranil's present government would be shortened by seven months," he said.
The period of office of President Maithripala Sirisena would end by the end of next year. But if the 20th amendment was adopted, President Maithripala Sirisena could continue in office after January 9, 2020 subject to the terms of the 20th Amendment.
False publicity was being carried out by some alleging that some parties had teamed up with the JVP and the PM to bring in the 20th Amendment, the JVP Leader said.
(Source: Daily News – By Asela Kuruluwansa)