J'pitiye Amare to face identification parade over Katuwana killings
Posted by Editor on June 21, 2012 - 6:10 am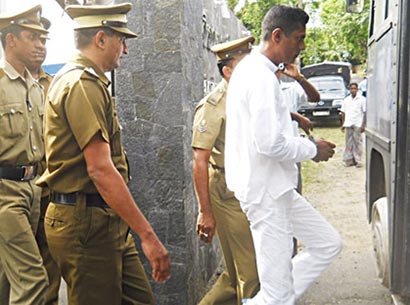 Geeganagamage Amarasiri, alias Julampitiye Amare, who surrendered to the Tangalle High Court on Tuesday in connection with a murder which occurred in 2002 will be produced at an identification parade in the Walasmulla Magistrate's Court in connection with last Friday's Katuwana double murder.
Tangalle High Court Judge Chandrasena Rajapaksa ordered Amarasiri be remanded till July 11 and be produced to face the identification parade on June 29.
A team of CID officers requested the Court to remand the suspect as investigations into the Katuwana incident were continuing.
A gang, armed with T–56 assault rifles opened fire on a JVP meeting in Hediwaththa, Katuwana last Friday night. Two persons were killed and two others critically injured in the attack.
The JVP claims that Julampitiye Amare was the mastermind of the attack.
Julampitiye Amare surrendered to the Court through a lawyer on Tuesday in connection with a warrant issued to arrest him for a murder in 2002. He appeared before the Court for a second day yesterday.
Courtesy: The Island
Latest Headlines in Sri Lanka