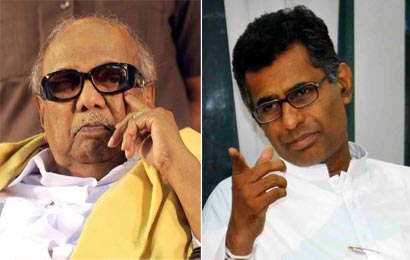 Onlanka News – by Walter Jayawardhana
DMK President Muthuvel Karunanidhi strongly objected to an alleged statement of Sri Lankan Minister Champika Ranawaka in which the minister had threatened another "massacre" of Tamils and urged Prime Minister Manmohan Singh to take up the issue with Colombo and the United Nations.
"It has come to our notice that Sri Lankan cabinet minister Champika Ranawaka has warned of hundred more massacres and has threatened that one Mullivaikal (where thousands of Tamil civilians were killed) was enough and that no one should try to get hundred more", Karunanidhi said in a letter to Singh.
"The remarks of the Sri Lankan minister is highly provocative and therefore condemnable", he said, adding that the Tamils all over the world are very perturbed over the reprehensible remarks of the Sri Lankan minister.
"I therefore request you to kindly use your good offices to take up this matter with the Sri Lankan government with an advice to adopt a course of restraint and humanitarianism", he said.
Karunanidhi said the UN may also be apprised of such harsh stance of the Sri Lankan government.
The Lankan power and energy minister is said to have made the remark while reportedly cautioning the island's Tamil population to avoid following the politics of the main Tamil Parliamentary group. Ranawaka gave the alleged warning during a news conference on June 8 in Colombo.