Jubilee celebrations at the Birmingham Buddhist Maha Vihara for Her Majesty, Queen Elizabeth II's Diamond Jubilee
Posted by Editor on July 10, 2012 - 6:41 am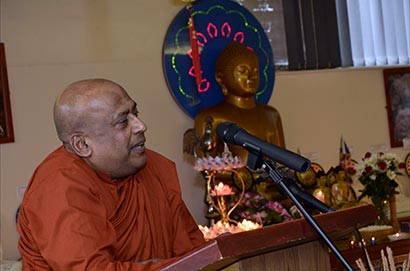 Report & photos by Thakshila Udage
(Submitted by Janaka Alahapperuma)
Buddhists from across the West Midlands jointly celebrated Her Majesty Queen Elizabeth II's Diamond Jubilee at an afternoon ceremony at Birmingham Buddhist Maha Vihara on Saturday, 7th July. The ceremony began by inviting distinguished guests to light the traditional lamps. In addition, red, white and blue candles, distributed during the passing of the Olympic Flame through Birmingham, were lit and the audience invited to recite the "Torch Faith Pledge" to grow in compassion and righteousness and enrich the lives of those living in the city.
The service began with paritta and a blessing of the country and its ruler; this was followed by chanting by representatives of the Order of Buddhist Contemplatives and Sokka Gakai International, and by a devotional song from the Buddhist Women's Group of the Dr Ambedkar Buddhist Association in Great Britain of Wolverhampton. Dr. Jagjit Taunque, the Queen's official representative, was present to pass on her thanks and to receive on her behalf the presentation of a Buddha-rupa by committee members of The Midlands International Buddhist Association and its associated charity, The International Buddhist Relief Organization.
In welcoming the afternoon's many guests and faithful friends, the Maha Vihara's incumbent, Ven. Dr. Witharandeniye Kassapa OBE, pointed out that we also had other reasons to celebrate Her Majesty's Jubilee year. In April Chevalier William Ozanne, the Catholic Archbishop's long-serving Interfaith Advisor had received a Papal knighthood. In May the Deputy Lord Lieutenant's wife, Satinder Taunque, was created a Lord Lieutenant in her own right and, that same month, Michael Wilkes, Lord Mayor of Birmingham for 2009-10, was created an Alderman. In the Queen's Birthday Honours in June, the Maha Vihara's Secretary, Yann Lovelock, was awarded a British Empire Medal for his services to Community Cohesion and Inter-Faith Relations, while 31-year-old local Councillor, Waseem Zaffar, received an MBE for his voluntary work. We were pleased to note that all have been associated with the Maha Vihara.
Yann Lovelock, acting as Master of Ceremonies, then introduced the afternoon's other speakers, Dr Taunque, Alderman Wilkes and Councillor Zaffar, all of whom mentioned the Queen's inspiring example and the Maha Vihara's record of service to the local community. This was followed by a Sharing of Merit ceremony, during which Yann and the Maha Vihara's Community Outreach Officer, Mrs.Manjula Senanayake, poured out the nectar of blessing into a bowl. The afternoon closed with an English tea offered to all present, with curry on the side for those who find English food too bland!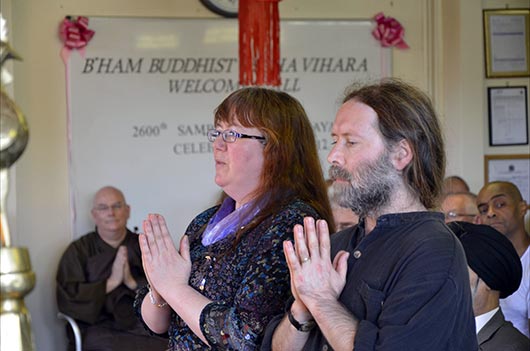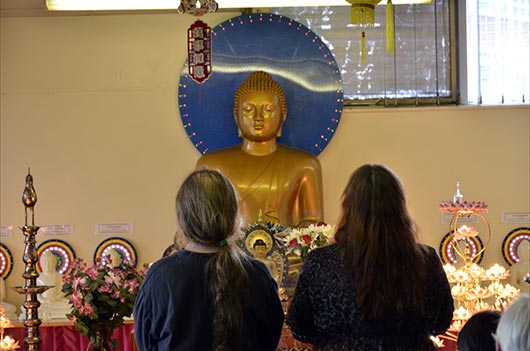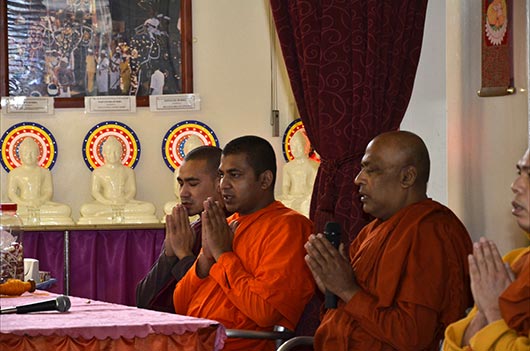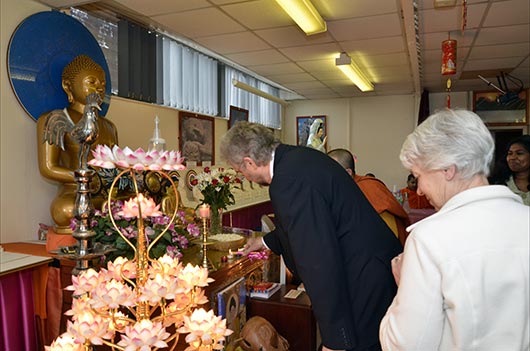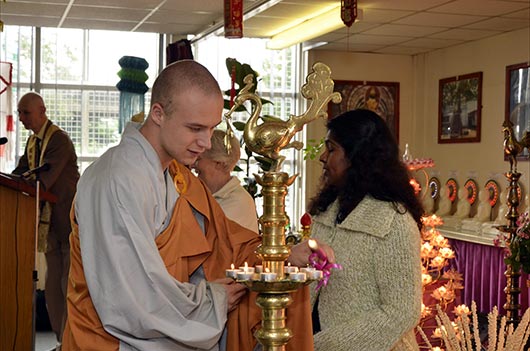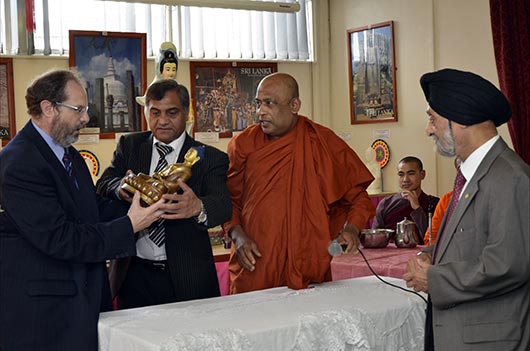 Latest Headlines in Sri Lanka