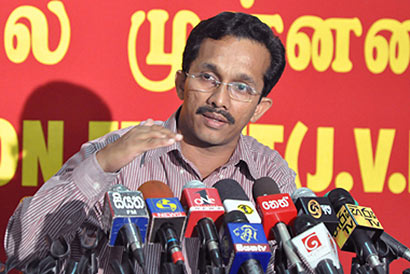 Lambasting President Maithripala Sirisena's appointing of 26 Sri Lanka Freedom Party (SLFP) MPs as Ministers as being a shameless move flying in the face of the people's mandate, Janatha Vimukthi Peramuna (JVP) said that they would rethink their role in supporting the 100-day plan.
The JVP will also rethink the Party's role as a Member of the National Executive Council and as to whether they would continue to stay on as a Member.
JVP MP Sunil Handunneththi yesterday (22) added that the said move was done in order to protect old crooks and make inroads to allow for new crooks to engage in acts of thievery.
This move is not done in view of building the nation by improving its education, health and infrastructure or in order to provide genuine relief to the people, he said.
The total number of ministers including the Cabinet was to be limited to 30, yet now with State and Deputy Ministers the number will reach a staggering 70 ministers, the JVP explained.
"Sirisena was never given a mandate by the people to appoint ministers from those who had worked towards his defeat at the Presidential Election by supporting former President, Mahinda Rajapaksa. No mandate has been given for the United National Party (UNP) to form a minority government. The UNP right now does not have enough power to engage in thievery.
this is a joke. The 19th Amendment is also a joke. Sirisena is shameless in appointing those like State Minister of Environment, Pavithra Wanniarachchi who worked against him and those of Wanniarachchi and her ilk are also shameless in taking up portfolios. Sirisena has not been given a mandate to do so," Handunneththi remarked.
Meanwhile, National Freedom Front (NFF) Leader Wimal Weerawansa yesterday said that the SLFP by joining the National Government had betrayed those who had voted for them.
"Media has reported that a number of SLFPers will join the government to form a coalition. It is said that 15 MPs will be sworn in as Cabinet Ministers. In addition a number of others will be appointed as State Ministers and Deputy Ministers. By giving these MPs Ministerial portfolios President Sirisena has made the SLFP an affiliate of the United National Party (UNP)," he said.
Weerawansa said that President Sirisena was not elected by SLFP or UPFA voters and that individuals like Ranil Wickremesinghe, Tamil National Alliance (TNA) leader R. Sampanthan, Janatha Vimukthi Peramuna (JVP) leader Anura Kumara Dissanayake and Jathika Hela Urumaya's (JHU) Champika Ranawake assured his victory.
"Now President Sirisena is trying to build a strong and stable government for Prime Minister Ranil Wickremesinghe. A government that can't be toppled with No Confidence Motions. This national government is nothing, but an attempt to help Wickremesinghe," NFF leader said.
(Ceylon Today)