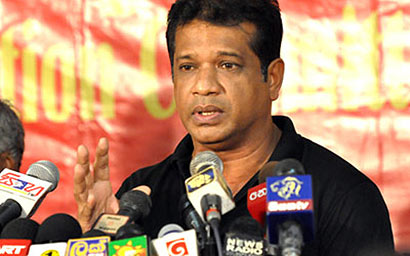 Despite not being consulted with regards to the no-faith motion brought against Minister of Public Security, John Amaratunga, the Janatha Vimukthi Peramuna (JVP) yesterday said the party approved of the move.
JVP Western Provincial Councillor, K.D. Lal Kantha, said with regards to the incident involving the assault on the Wattala Pradesheeya Sabha Chairman, it was evident that Amaratunga had either aided or abetted the crime by providing patronage or inciting or purposefully allowing the incident to take place by not intervening to stop it.
Even during the 2001 government, when he was the minister in charge of the Police Department, he operated in an extremely bad manner, Lal Kantha alleged.
The opportunity afforded by the no-confidence motion must be used to make an example of Amaratunga to other ministers of the government, thereby teaching others a lesson and setting a precedent that such unprofessional conduct and unbecoming behaviour would not be without consequences and most importantly would not be tolerated, he added.
"The no-faith motion receiving the Parliament's majority's confidence is a good thing. Those who brought it have the majority. They may have decided not to involve the JVP. If they did we would have no problem in taking a decision after having a party discussion on whether to vote for or against," Lal Kantha stressed.
(Ceylon Today)