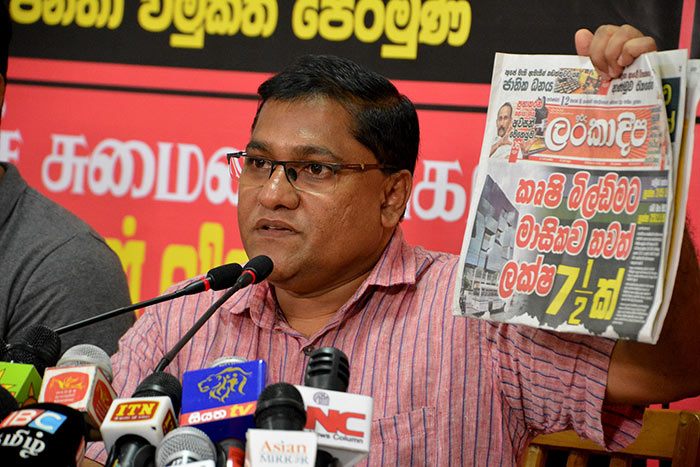 The JVP yesterday called on people to take to the streets against the exploitation by the government of the masses to cover the cost of its extravagance and frauds.
Addressing the media at the party headquarters in Pelawatte, JVP Propaganda Secretary MP Vijitha Herath said: "The government has increased prices of fuel and now prices of all commodities will increase. It increased the prices of milk powder by Rs. 50. After slapping taxes the government says it will spend tax money on free health care and education.
"That is a lie. The cost of education today is borne by parents. People have been compelled to seek treatment in private hospitals. The government pays Rs 25.2 million for the Agriculture Ministry building. Treasury bond scam cost more than Rs 11,500 million to government coffers. The government increases taxes to cover those losses.
The Petroleum Corporation suffered a loss of Rs 14200 million recently. The government is passing supplementary estimates for ministers' houses, luxury cars. They passed such an estimate of Rs 1500 million only for vehicles. In addition they take Rs 10-15 million to renovate their houses. On the two bullet proof cars of the Prime Minister, the Government spent Rs 600 million. How did they find money for them? It is through taxes.
This is a bankrupt government. Corruption, waste and fraud have increased under the incumbent government. Value of the rupee was at 131 to the dollar when it came to power and now it is Rs 160. The rupee has depreciated by 20 percent.
Central Committee Member Wasantha Samarasinghe said the government suffered a loss of USD 86 million for a loan it had obtained at 6 percent interest. The government could have obtained the same loan at 1.5 percent interest. But since it had no sound thinking, it went for the option with 6 percent interest.
JVP Politburo member K. D. Lalkantha said that his party would organize a series of demonstrations exhorting the government to withdraw its taxes, including the recent oil price increase. "The first protest march and the rally would be held in Colombo on May 22. We extend an open invitation to the general public not to consider this as an agitation by a single party and to join hand with us to express their solidarity with us in our struggle against rising cost of living and government inaction to provide relief to masses. We will not be able to get the government attention without putting up a massive struggle. When this government was formed there was a campaign which said Ranil Wickremesinghe was the top economist and he would win the economic battle. Today it is proven otherwise. He is a failure. Then there was another campaign that Ranil was clean of corruption and fraud. The same Ranil robbed the Central Bank. Today people are compelled to pay for the follies, frauds and corruption of the government.
(Source: The Island – By Saman Indrajith)