JVP questions why President Sirisena waited two years to probe bond scams
Posted by Editor on January 25, 2017 - 7:45 am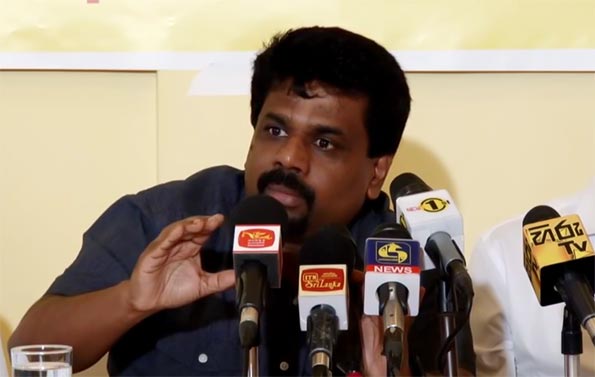 The Perpetual Treasuries Limited had recorded an excessive profit of more than Rs 13 billion during the 21 months from January 1, 2015 to September 30, 2016, Chief Opposition Whip and JVP Leader Anura Kumara Dissanayake said.
He was moving an adjournment motion in Parliament yesterday on the COPE report on the Central Bank Treasury Bonds investigation. He said the Perpetual Treasuries had purchased bonds worth of Rs 227 billion during the 14 months from February 28, 2015 to May 31, 2016. Out of that Rs 141 billion worth bonds had been purchased directly while Rs 86 billion worth bonds had been purchased through other institutions such as state banks.
He pointed out 95 per cent of those bonds had been sold back to the Employees Provident Fund (EPF) at the secondary market. He said according to a monetary board report that came out last November the EPF had suffered a loss of Rs 14.9 billion during the above mentioned 14 months.
"The assets of Perpetual Treasuries grew by 1853 per cent during the last two years while the asset growth of other primary dealers had been only 31 percent. The number of staff of this company is only 14. It is proved beyond doubt that this company has earned undue profits from the bond scams. The loss suffered from the bond scam on February 27, 2015 alone is Rs 1,674 million. Yet, the Government led by Prime Minister Ranil Wickremesinghe is hesitant to take any action against the culprits involved in this scam" he said.
MP Dissanayake urged Speaker Karu Jayasuriya to take the decisive matter into his hands and directly order legal proceedings against the perpetrators, while overseeing the process. The MP, while thanking the President for appointing a Presidential Commission in that regard, questioned why that action was delayed for two long years.
(Source: The Island – By Saman Indrajith)
Latest Headlines in Sri Lanka