JVP refuses to buy President Sirisena's story
Posted by Editor on July 16, 2015 - 9:07 am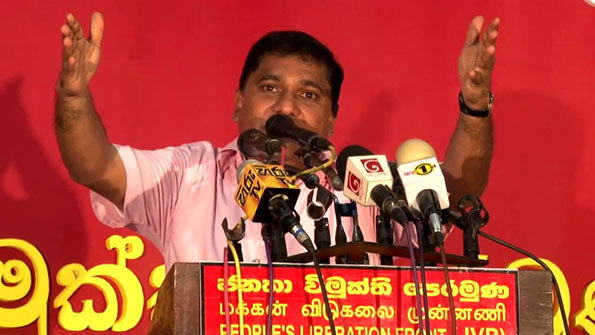 President Maithripala Sirisena's claim that he was opposed to giving nominations to former President Mahinda Rajapaksa to contest upcoming polls is not acceptable, the JVP says.
JVP propaganda Secretary former MP Vijitha Herath addressing a public rally at Yakkala, Gampaha said yesterday (15): "After everything has happened the President appears on TV claiming he did not want to give nominations to Rajapaksa. We are sure the people of this country will not accept what he says ever again. He has made a bad mistake. It is too late for him to correct what he did."
Commenting on President Sirisena's special statement the previous day, former MP Herath said that there had been three meetings between the incumbent and former President on matters pertaining to the upcoming polls. "President Sirisena in his address did  not mention a single word about their third meeting. It was at this third meeting President Sirisena endorsed the former President's candidacy, according to a statement released by UPFA General Secretary. President Sirisena could have come up and countered that statement then. But, he did not do so. He has hidden the truth from people and this is a serious matter," Herath said.
Herath said that UPFA had rejected giving nominations to former MP Sarana Gunawardena from Gampaha but instead approved the nominations for Gunawardena's wife. "The UPFA has rejected the husband and given nominations to the wife. Their move is to cheat people. The UPFA promised not to give nominations to ethanol businessmen, heroin dealers, fraudsters and casino owners. But take a look at their list. It is full of all sorts of thieves in their hundreds," Herath added.
(Source: The Island)
Latest Headlines in Sri Lanka