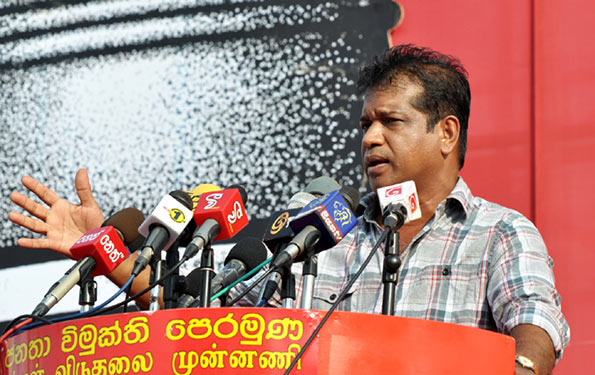 The JVP yesterday threatened to block all six roads leading to the Colombo City if the government was not ready to give the fertiliser subsidy to farmers.
JVP trade union wing leader K. D. Lal Kantha said the date of their protest would be announced later as the government intelligence services were all out to sabotage the protest.
He said they would send a letter to President Maithripala Sirisena and Prime Minister Ranil Wickremesinghe spelling out their demands.
"We are ready to discuss the issue but the government should first undertake to provide a 50-kilo bag of fertiliser at Rs. 350 as a precondition," Lal Kantha said, adding that the letter would include all problems faced by farmers at present.
Lal Kantha said seven million people were dependent on agriculture in the country and they found it next to impossible to cultivate their lands due to high production costs.
He said that the JVP had held protests islandwide demanding that the fertiliser subsidy be restored, but the government had turned a blind eye to its demands.
"We will block the Puttalam Road, the Galle Road, the Kandy Road, the Highlevel Road, the Kaduwela Road and the Horana Road to win farmers' demand," Lal Kantha said, adding that they had surrounded Temple Trees once to win the rights of farmers and laying siege to Colombo was not a difficult task for them.
He said that successive governments had taken farmers for a ride and there was no national policy on agriculture. "Therefore the farmers have to face hardships under every government."
Lal Kantha said that successive governments had sold out state owned seed farms and fertiliser producing facilities to the multi national companies and their leaders were now shedding crocodile tears for farmers.
"This government has rendered the property transfer easy to enable foreigners to buy lands here, Lal Kantha said, adding that JVP as well as All Ceylon Farmers Federation would not allow the government to do so.
(Source: The Island – By Dasun Edirisinghe)