Karat wants India to demand credible probe into Sri Lanka rights violations
Posted by Editor on February 24, 2013 - 8:53 am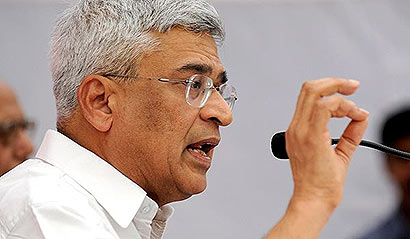 Submitted by Walter Jayawardhana
India should demand an independent, high-level, credible inquiry into the atrocities and human rights violations that took place in the last phase of the war in Sri Lanka, CPI(M) general secretary Prakash Karat said on Saturday.
Asked what should be India's stand on the resolution that was likely to come upon in the United Nations Human Rights Council (UNHRC) against Sri Lanka, he said though it was not clear about the nature of the resolution, India should ask for a high-level, independent, credible inquiry.
The CPI(M)'s state unit had already announced that India should support the resolution against Sri Lanka and make efforts to bring to book those responsible for the killings of innocents and other human rights violations.
Mr Karat, who was here to release the book The Making of the Madras Working Class by the late D. Veeraraghavan, said despite setbacks, the trade union movement in the country had progressed and the two-day strike by all trade unions, irrespective of their political affiliations, proved their unity.
"After a long struggle, trade unions affiliated from BJP to the Congress have come together on a common platform for a nation-wide strike on February 22 and 23. The unity is crucial for the working class," he said, pointing out how many factors including the emergence of a multi-cultural society impeded the creation of a revolutionary class consciousness among the workers. (Courtesy: The Hindu)
Latest Headlines in Sri Lanka