Karunanidhi slams Pranab's remarks on Sri Lanka
Posted by Editor on February 24, 2013 - 8:50 am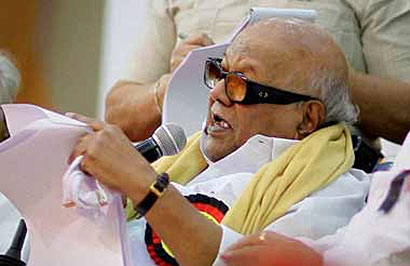 Submitted by Walter Jayawardhana
DMK president M. Karunanidhi, an ally of the Congress-led UPA at the Centre, on Saturday criticised the reference made by the President in his address to Parliament on improving ties with Sri Lanka.
"When the entire world has taken note of Sri Lankan President Mahinda Rajapaksa's dictatorial policies and condemned him as an international war criminal, I am not able to understand why the President in his address should talk about improving the country's relationship with Sri Lanka. When will India understand the man who sports a smiling face but harbours a heart full of poisonous vengeance?" he said in statement.
Mr Karunanidhi said though the situation in Sri Lanka had reached such a pass that Chief Minister Jayalalithaa was "shedding crocodile tears", President Pranab Mukherjee was trying to paper over the real problems faced by Tamils in the country.
"There are empty words like rehabilitation of Tamils and securing rights for them on a par with Sinhalese in the speech. It does not, however, reflect the agony of the Tamils," he said.
He also ridiculed Ms Jayalalithaa decision to cancel the Asian Athletic Championships on the ground that Sri Lanka would also participate in the event. He wondered whether she was not aware that Sri Lanka would also participate in the Asian event when she made the announcement. (Courtesy: The Hindu)
Latest Headlines in Sri Lanka