KARUNAKARAN KANDASAMY KANDASAMY RELEASED BY JUDGE FOR 5 YRS. TIME SERVED
Posted by Editor on May 12, 2012 - 8:24 am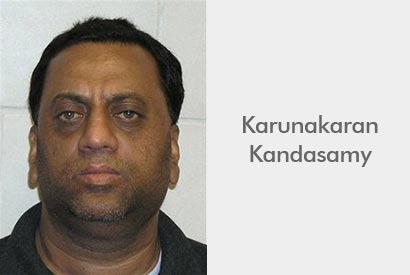 Onlanka News – By Walter Jayawardhana
Karunakaran Kandasamy Kandasamy, a US citizen charged for aiding the Liberation Tigers of Tamil Eelam a terrorist group in Sri Lanka was released by the Federal Judge to time served in jail – about five years, after casting doubt on the terrorism case
US District Judge Raymond Dearie who announced his sentence in Brooklyn New York said the 20 years sought by he prosecutors excessive and remarked, "This is not a garden variety terrorism case."
Kandasamy, 55, had pleaded guilty in 2009 to charges of conspiring to provide material aid to a terrorist organization.
But Dearie said that it was a stretch to say the former cab driver had a leadership role, and that he believed that he was involved in humanitarian — not military — aid for the Tamil minority in Sri Lanka.
"We do not accommodate any of support terrorism on U.S. soil. That said, we have to pull back that emblazoned banner of terrorism and look at the case specifically," Dearie said.
Lawyers for Kandasamy, 55, had argued that he had done enough time, especially since he suffers from diabetes and a host of other ailments.
"I simply want to express my remorse," Kandasamy told the judge before he was sentenced. "I was raised in a country where my family lived in constant fear. . My intent was only to help my people."
In 2009, the Tamil Tigers admitted defeat in their 25-year war with the Sri Lankan government that left more than 70,000 people dead.
Federal authorities in New York had sought to cut off support for the group by arresting sympathizers in their East Coast immigrant communities in 2006 and 2007 on terror support charges.
Kandasamy and others were and other tied to a covert campaign to raise and launder millions of dollars through a charity front organization. Prosecutors had accused him of personally raising millions of dollars for the Tamil Tigers, and that he went to Sri Lanka to meet with rebel commanders.
Latest Headlines in Sri Lanka