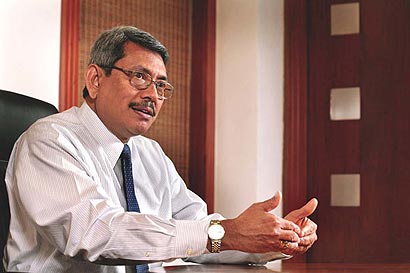 Defence Secretary Gotabaya Rajapaksa yesterday said if DMK Leader and former Tamil Nadu Chief Minister M. Karunanidhi's unfulfilled dream was a Tamil Eelam, he should work for it in India because the largest population of Tamils live in the Tamil Nadu state of India and not in Sri Lanka.
"A much bigger population of Tamils live in Tamil Nadu in India than the Tamil population in Sri Lanka. If Karunanidhi wants a Tamil Eelam he can have it in Tamil Nadu. He should not come to make Eelams in Sri Lanka. This is a sovereign country.  We consider those who talk about Eelam as terrorists," the Defence Secretary told the Daily Mirror.
The Defence Secretary expressed these views responding to a statement made by india's DMK party President and former Tamil Nadu chief minister M. Karunanidhi to the effect that India should urge the United Nations to bring pressure on Sri Lanka to hold a referendum regarding Tamil Eelam in Sri Lanka. Karunanidhi wields significant political power with the Indian Central Government as his political party is a significant constituent of the Indian Congress led ruling alliance – the UPA.
"There is no war now in Sri Lanka. There exists ethnic harmony and every one lives peacefully. Karunanidhi should not attempt to arouse the Tamil people in Sri Lanka. Karunanidhi is also one among the many Indian politicians who are bent on destroying our country by making controversial statements. It is a pity that they are adopting to such low political tactics. Karunanidhi should realize that ours is an independent country and should not attempt to establish Eelam, and if he wishes he could do so in Tamil Nadu where a larger concentration of Tamil people live," the Defense Secretary further stated.
Courtesy: DM Online