Hashish case takes queer turn: Officers mum on suspect's identity; Angela denies involvement; British suspect being grilled
Posted by Editor on April 20, 2012 - 8:10 am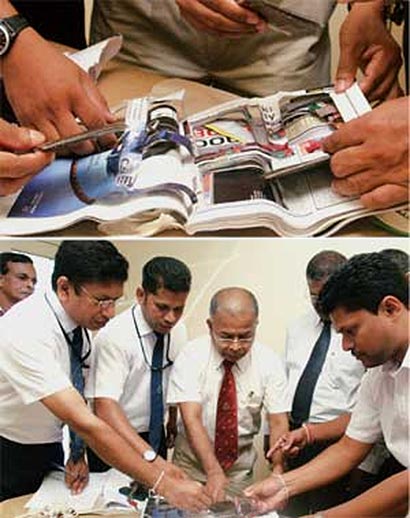 Many an eye brow has been raised over the apparent reluctance on the part of the officialdom to reveal the arrest of a British national on a narcotics charge yesterday.
The suspect was taken into custody yesterday, when he arrived at the the Central Mail Exchange at D. R. Wijewardene Mawatha, Colombo to collect three parcels. An accomplice managed to escape in spite of the presence of security personnel. However, the suspect was handed over to the Police Narcotics Bureau (PNB) on a detention order effective for one week.
The British High Commission, though aware of the arrest wasn't available for comment. Our repeated attempts to contact the High Commission spokesperson were in vain.
The External Affairs Ministry confirmed the arrest of the Britisher on a narcotics charge.
After the detection of 356 grammes of hashish in three parcels of magazines,  addressed to a one time beauty queen and actress on Wednesday evening, a special police narcotics team, assigned to the case, had gone to the address given on the parcels several times, but they had found the place locked and the occupant missing.
Police spokesman, Superintendent of Police, Ajith Rohana said a neighbour of No. 67, Hudson Road, Colombo 03, to which the contraband was addressed, had told the investigators that the occupant had been there on Wednesday morning, but they had not seen her since.
When asked whether they had spoken to the actress, SP Rohana said what they were interested in now was the current occupant of the house. Besides, he said the parcels might have been addressed to the actress just to tarnish her image.
When The Island contacted Angela Seneviratne, she said it was correct that she had lived at that address but about ten years back.
But, she had known nothing about the parcels of magazines containing hashish being mailed to her till we informed her.
The smuggling attempt came to light when a young British man went to collect the three parcels, from the Parcels Office of the Central Mail Exchange at D. R. Wijewardene Mawatha, Colombo on Wednesday evening, with an alleged endorsement from the actress that he was authorised to collect them.
"When one of the parcels was opened by the customs officials, they had found a magazine with a black substance hidden in it. When interrogated, the suspect Britisher had attempted to run away. The customs officials had then arrested him," the Police Media Spokesman said.
Sources said the 23-year-old suspect was due to be produced before a Magistrate last night to obtain a detention order to continue with the questioning and the inquiry would resume this morning.
They said he had been travelling to Sri Lanka periodically and had been living with his mother, a permanent resident here.
Courtesy: The Island
Latest Headlines in Sri Lanka