Judge Warawewa says request for extension refused
Posted by Editor on April 19, 2012 - 3:06 pm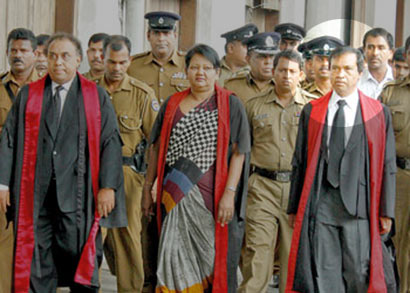 High Court Judge W.T.M.P.B. Warawewa has revealed that a request made by the Attorney-General's Department to further extend his term of office by a year to enable him to hear several pending cases has been refused by the Chief Justice.
"The Attorney General's Department requested that I be reappointed to hear and conclude several important cases including the Town Hall bomb case and High Court fraud case.
These cases have reached their tail end. However that request was not accepted by the Chief Justice. I am aware that the High Court Commissioners of Jaffna, Trincomalee and Badulla have been granted further extensions and I do not know why my term of office was not extended," Justice Warawewa said in an e-mail interview with Daily Mirror.
Judge Warawewa, who wrote the dissenting judgement acquitting former Army Commander Sarath Fonseka of all charges in the 'White Flag' case, was originally due to retire in January 2011. However, his term was extended on a request by the AG's Department to permit him to hear and conclude many partly heard cases.
The former High Court Judge also expressed discontent over the treatment meted out to judges, and asserted that successive governments have ignored the plight of judges and court staff.
"It is regrettable that even after 64 years of independence none of the governments that took office have looked into the plight of judges and court staff," he said. "Judges have never been given adequate facilities. In most places of the country there is a shortage of official residences. Sometimes millions are spent for building a courts complex but an official residence for the judge is forgotten altogether.
A huge budget is allocated to the Ministry of Justice every year but instead of spending the funds for developing infrastructure, court room facilities and improving facilities for the court staff and the litigants, it is spent thriftily to show a balance at the end of the financial year."
"Recently the salaries of High Court judges have been taxed. Due to the shortage of official bungalows, sometimes judges are required to find a place of their own and the amount paid to a judge to rent a house in Colombo is only Rs.18,000," Judge Warawewa said.
"If the Ministry of Justice is really interested in providing these pressing needs, even a period of three months would be adequate time. If official residences are built for judges, the expenditure incurred can be recovered within 10-15 years from the amount deducted as rent from the salaries of the judges," he added.
Courtesy: DM Online
Latest Headlines in Sri Lanka