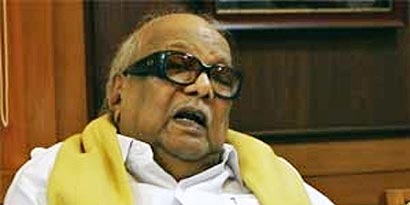 DMK president M. Karunanidhi Tuesday requested the prime minister to introduce a resolution in the United Nation (UN) General Assembly and the UN Human Rights Commission (UNHRC) for Sri Lankan Tamils and Sri Lankan refugees.
Karunanidhi wants the UN and the UNHRC to determine a political solution for Sri Lankan Tamils.
In a letter to Prime Minister Manmohan Singh, Karunanidhi also said that India should take diplomatic initiatives to get the support of other countries for its resolution while reclaiming the Katchatheevu island ceded to Sri Lanka.
He sought that a naval base be set up at Dhanushkodi or Mandapam in Tamil Nadu.
Referring to the Rs.500 crore Indian aid to Sri Lanka for the rehabilitation of Tamils in that island-country, Karunanidhi said a committee should be formed to oversee how the grant is being used.
He urged the prime minister to avoid training Sri Lankan armed forces in India and that India should take appropriate action to protect its fishermen from attacks by the Sri Lankan Navy.
The letter said that India should take a lead role in facilitating the release of Tamils in Sri Lankan jails, protecting overseas Sri Lankan Tamils, protection of Tamil culture and arts, setting up educational institutions, medical facilities and undertaking rehabilitation.
Source: India Gazette