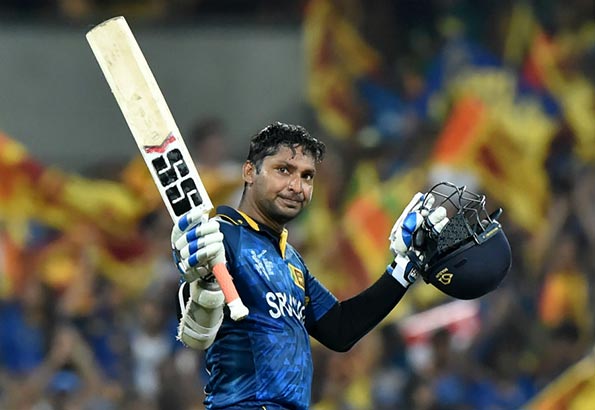 After much anticipation the final results of Greatest ODI Player of All Time (GOAT) are out and to much surprise the winner is Kumar Sangakkara.
The final was hosted between Sangakkara and India's legend cricketer Sachin Tendulkar. Looks like Sri Lankan fans have come out in all support to push Sangakkara to the title ahead of Tendulkar after an exhaustive online polling process. Sangakkara's prowess in ODI needs no mention. He has garnered 14,234 runs from 404 matches with an average of 41.98 with 25 centuries to his name. Apart from batting he was master behind the stumps as well.
He has contributed to 482 dismissals behind the stumps. ALSO READ: Sachin, Sanga in ODI GOAT final
The 40 days of voting the results were finally in favor of Sangakkara over Tendulkar, as reported on cricket.com.au. Starting off from a total of 64 great players, only these two managed to survive till the end. Sangakkara, one of the greatest ever wicket-keeper batsman, beat Pakistani great Imran Khan in the final-4, whereas Tendulkar, whose records are unparalleled, beat Sanga's former teammate Sanath Jayasuriya.will face Imran Khan in semi-finals.
The competition kicked off with 64 players. The road to final for Tendulkar started very convincingly, as he beat fellow Indian Rohit Sharma hands down in the first round, before thrashing Pakistani Saeed Anwar in the round of 32. His next competitor was Australian Michael Bevan, but even he was beaten comprehensively by the Little Master. The quarter-final saw the contest of the tournament as Tendulkar faced off against West Indian Viv Richards. But the little master just prevailed, garnering 53 percent of votes. And his place in final was secured with an easy win over Jayasuriya.
Sanga's run to the final was a tough one. He faced current Indian ODI skipper MS Dhoni in the first round, and beat him convincingly. Next up, he faced another wicket-keeper in the form of Australia's Adam Gilchrist. Beating him by garnering 60 percent of the votes, Sanga next prevailed in a brilliant contest against the 'Mr.360′ AB de Villiers. And a contest against Tendulkar in final was confirmed with a somewhat shocking win over the spin maestro Shane Warne.
(CricketCountry)