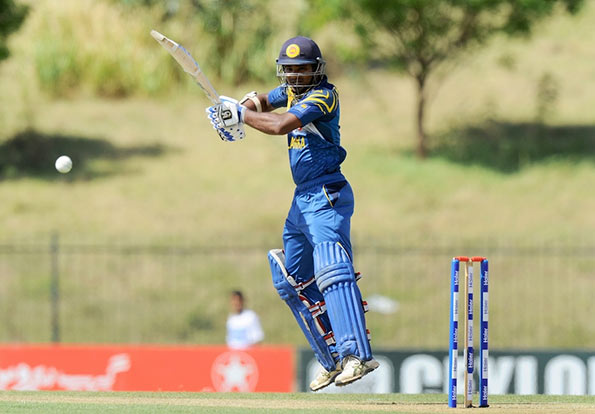 Kusal Perera sent Pakistan on the run with his most substantial innings to date, then Sri Lanka's middle order ran the opposition down and mauled them in a frenzied finish, to found a 165-run victory in the final ODI. Sri Lanka plundered 368 for 4, but even on a placid Hambantota deck, the chase was too steep for Pakistan's in-form top order. They slipped to 140 for 5 before the halfway stage of the innings, and were all out for 203.
Kusal's second ODI ton, and perhaps the most mature innings in his career, came in a 164-run opening partnership with Tillakaratne Dilshan, of which Dilshan's share was 62. Angelo Mathews and Milinda Siriwardana did justice to this start, by striking a ream of late boundaries as Sri Lanka amassed 107 runs in the last eight overs.
Rahat Ali was the only Pakistan bowler to claim a wicket, and only Shoaib Malik was spared an economy rate of less than seven. Yasir Shah's figures of 0 for 73 off eight overs was particularly telling. Pakistan remain among the top-eight ODI teams, but let slip a chance to further embed themselves there with the Champions Trophy deadline approaching. The No. 9-ranked West Indies are only two points away.
Much of that was down to Kusal's knock. Gone from his batting today were the indiscriminate across-the-line swipes. He relaxed his ambition in this innings and allowed a capable defensive technique to take over. The first over, from Mohammed Irfan, prompted only leaves, forward defensives and a couple of offside pushes. But when the bowlers erred, Kusal was merciless. Along the way he struck good deliveries to the boundary too, but was content to allow singles to tide him over in between the big shots.
Dilshan made use of the slipstream Kusal was creating to move briskly, but safely through the early overs. He hit two successive legside fours off Irfan in the seventh over, but was wily, rather than wild. His half-century came off 59 balls, but featured only four boundaries. He raised his bat at that milestone, but was more joyful minutes later, when he became the 11th batsman to complete 10,000 ODI runs.
Kusal had got his own half-century off 39 balls, but in many ways, it was the second fifty that set this innings apart. He ran at Imad Wasim to sock him for two successive straight sixes in the 16th over, then returned to a diet of singles and twos with his homespun technique accessing uncommon portions of the ground. Dilshan was run out attempting a quick single, but Kusal stayed the course, completing his second ODI ton with a controlled hook to deep square leg.
Pakistan's seamers rattled Kusal twice – lifting a ball into his grille and later crushing his boot with a yorker. The only real chance Kusal gave was a difficult one to a diving mid-on, off Yasir, on 79. In the end, it was another run-out that stopped him. Perhaps hampered by that blow to the foot, he was slow completing a second run in the 33rd over. He had hit 116 off 109 deliveries though, and set Sri Lanka well on course to their enormous total.
Things could have been different though. Yasir will feel he got the better of Mathews when he drew a top-edge off a slog sweep, but Wasim backpedaling from square leg lost the high ball in the breeze. With Sri Lanka only three wickets down at the end of the 40th over, the score at 249 and moving at more than a run-a-ball, Mathews quickly got his power-game into gear. He slammed Yasir through midwicket next over, then blasted a four and a six against the turn an over after that.
With their ace spinner dominated for the first time on tour, Pakistan's seamers were virtually fodder on what was now a pitiless surface. Siriwardana targeted the boundary from the outset of his innings, and the length of the ball didn't matter. Irfan's bouncers were clattered through midwicket, and Rahat had little luck with the full ball.
The pair reaped 114 runs from the last 55 balls of the innings, with five sixes and 12 fours. Mathews reached his half-century in 31 balls and Siriwardana completed his first international fifty off 25 with a hook over deep square leg in the final over to cap Sri Lanka's most dominant 50-over stretch of the series.
Pakistan began the chase without incident, perhaps even a little slowly given the target – 46 runs from the first nine overs. Sachithra Senanayake, who would be Sri Lanka's best bowler in his first match of the series, made the first breakthrough, turning one past an overbalancing Ahmed Shehzad. Then Dinesh Chandimal snapped the bails off quickly enough to catch the batsman short by a miniscule margin.
Mohammad Hafeez seemed the most fluent of the Pakistan batsmen, easing boundaries square of the wicket and even stepping out to send Senanayake over long-off. But at no point did Pakistan appear to have a grip on this chase. The run rate only briefly touched six, and the wickets kept falling. Azhar Ali and Sarfraz Ahmed were run out by rare Sri Lanka direct hits. Hafeez himself became Mathews' 100th ODI victim when he was lbw to an indipper, and Shoaib Malik and Mohammad Rizwan succumbed to Thisara Perara. The tail eventually gave in to spin, giving Senanayake figures of 3 for 39 from eight overs.
Despite this thrashing, Sri Lanka have lost the series comfortably. But they will at least be glad that Kusal has begun to realise his potential as an out-and-out matchwinner.
(Source: ESPN CricInfo)