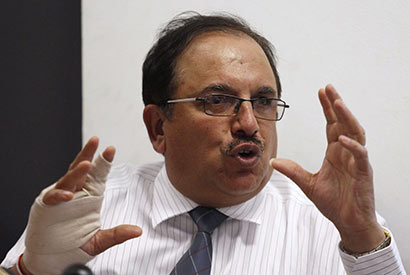 Indian Oil Corporation Lanka on Tuesday expressed concern over media reports suggesting the island nation government was planning a takeover of its oil storage tanks in the north-eastern port district of Trincomalee.
When asked for his comments, Lanka IOC Managing Director Subodh Dakwale said while there was no official intimation yet he was "concerned and disturbed when there are reports that someone is trying to take over."
"What would you feel if someone says they are trying to take away my sofas and other furniture from the house," Mr. Dakwale asked while speaking to reporters.
IOC Lanka took over 100 Ceylon Petroleum Corporation owned petrol/diesel stations in February 2003 and commenced retailing products to customers.
Earlier this week, Sri Lanka has rejected a ship load of 5,000 tonnes of diesel from Indian Oil, saying the fuel is of poor quality.
Mr. Dakwale said the company has initiated an inquiry and was not selling the diesel that did not meet Sri Lanka's requirements for colour and appearance.
He also said Lanka IOC was losing at least five rupees on every litre of diesel it sold in the local market, but still managed to make profits on account of sales of bitumen and lubricants, PTI reports.
Courtesy: Ada Derana