President Mahinda Rajapaksa Instructs IGP to Release Jaffna University Students
Posted by Editor on February 13, 2013 - 8:18 am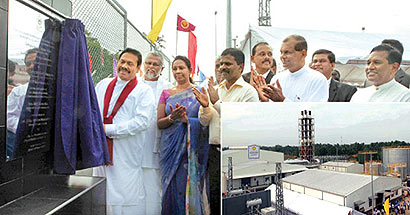 (12th Feb.) Following an appeal from the mothers of two Jaffna University who were arrested during a protest in December 2012, President Mahinda Rajapaksa instructed the Inspector General of Police (IGP) to make arrangements for the release of the students.
"Help your children focus on their studies," President Rajapaksa told the two mothers after asking the IGP to release the students as early as tomorrow if possible.
The two students, Kanagasunderasami Janamenjanan and Paramalingam Tharshanandan, the only two still under rehabilitation, are expected to be brought to Vavuniya tomorrow morning and released thereafter.
President Rajapaksa took this decision while chairing the District Development Committee meeting in Jaffna this afternoon. At the beginning of the meeting, the President, speaking in Tamil, made some general comments to the public officials.
"I understand the suffering and pain that the people of Jaffna went through for 30 years," President Rajapaksa said, "but today the situation is different."
Speaking about the duties of public servants, President Rajapaksa said, "You must work without any division in race, religion or caste. All the services that the government provides must be properly provided to the people. That is your obligation. When innocent people come to you for assistance, you must show kindness and send them back with satisfaction."
President Rajapaksa also responded to a question about the claim made by the Tamil National Alliance (TNA) that the government has withdrawn funds allocated to north and east local government institutions that are controlled by the TNA. President Rajapaksa said that the accusation is completely false. He said any local government body will have to return unutilized funds because it's the normal procedure.
Following an update by the District Secretary, the President engaged in a lengthy discussion with the many officials, including regional government officers, ministers and secretaries. President Rajapaksa requested specific updates on more than a dozen projects that were reportedly incomplete. Local officials from around the peninsula responded to each query.
Chunnakam Power Project
In the morning, President Rajapaksa declared open a new power plant in Chunnakam. The 24-MW plant, built at a cost of Rs. 3.5 billion, will contribute to the goal of supplying electricity to the entire Jaffna peninsula. During a presentation to the President, an official from the Ceylon Electricity Board said that 85 percent of households in the Jaffna District now have electricity, compared to 65 percent in 2009. Eighteen percent of households in the Kilinochchi District and 30 percent of households in the Mullaitivu District now have electricity compared to no services in 2009.
It was also reported that the Ceylon Electricity Board has been able to provide free electricity connections to more than 23,000 resettled families.
(President Media)
Latest Headlines in Sri Lanka