Cardinal Ranjith a contender for Pope: Forbes
Posted by Editor on February 12, 2013 - 3:36 pm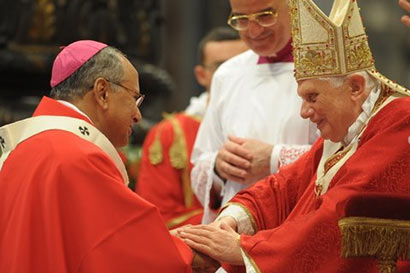 With Pope Benedict XVI's resignation, Sri Lanka's Cardinal Malcolm Ranjith (65) is also among the front runners for head of the Catholic Church, the Forbes magazine said.
For the first time in 600 years, a pope is resigning after less than eight years in office. Today Pope Benedict XVI, 85, made the surprise announcement that he would step down on Feb. 28, citing his advanced age.
Vatican spokesman Federico Lombardi, said a successor could be elected by Easter, which falls on March 31.
Already speculation is running rampant. Vatican experts say there is no clear favorite. Several Italians top the list (Italians hold a quarter of the seats in the College of Cardinals, which will pick the next pope), but a Canadian is also a frontrunner, and many are speculating that the next pope will come from Latin America, home to 42% of the world's 1.2 billion Catholics, or from Africa. Here are some of the leading contenders as reported thus far.
Cardinal Angelo Bagnasco, 70, Archbishop of Genoa. He made headlines last year for attacking then-Italian Prime Minister Silvio Berlusconi and other Italian leaders as unethical role models. He's "fairly savvy about both secular politics and the media," writes National Catholic Reporter Vatican specialist John Allen. USA Today ranks him as one of the top possible picks. Church historian Matthew Bunson told USA Today that Bagnasco is "an intellectual heavyweight" who speaks multiple languages. Bagnasco has twice been president of the Italian bishops' conference.
Cardinal Angelo Scola, 70. Archbishop of Milan. According to the National Catholic Reporter, his is the most commonly mentioned name among cardinals. He is a scholar on Islam and Christian-Muslim dialogue. Church historian Matthew Bunson, told USA Today that Scola is "well positioned for dealing with the challenges of secularism and materialism in the West."
Cardinal Gianfranco Ravasi, 70. Another Italian, who became a cardinal in 2010, he heads the Pontifical Council for Culture, which works on the relationship between Catholicism and different cultures. Known for his intellect and communication skills, he is a bible scholar, based in Rome.  John Allen has said that Ravasi may have a disadvantage because he has never been a bishop with an archdiocese. "Some would wonder if there were substance beneath the charm," Allen told USA Today.
Christoph Schoenborn, 68. Cardinal of Vienna and a former student of Pope Benedict, he has been a cardinal since 1998. He heads the Austrian Bishops Conference. He has spoken out against sex abuse in the Church and said that the celibacy of priests should be re-examined in light of the scandals.
Cardinal Marc Ouellet, 68. The former Archibishop of Quebec, Ouellet now heads the Congregation of Bishops, an influential post. Experienced in dealing with secularized Catholics, he is also hailed as smart and intellectual.
Cardinal Leonardo Sandri,  69. A longtime Vatican diplomat, he heads the Vatican's office for eastern Catholics. Born in Argentina, he has held church offices in Venezuela and Mexico and would be the first pope from South America. He is currently No. 2 in the Vatican Secretary of State's office. When Pope John Paul II died in April 2005, Sandri read the public announcement.
Odilo Scherer, 63, archbishop of Sao Paolo. He became a cardinal in 2007. He was born in Brazil of parents of German ancestry. Considered a theological moderate, he has taught philosophy and theology. He has criticized liberation theology's Marxist orientation but praised its work on social justice and poverty.
Peter Turkson, 64. From Ghana, Turkson heads the Vatican's justice and peace department. He is often named as the frontrunner from Africa. Turkson studied at St. Anthony-on-Hudson Seminary in Rensselaer, New York, where he earned his Bachelor's in theology. He is the first Ghanaian cardinal. Though he has said condoms are not a solution to the AIDS crisis, he has also said that if one person in a faithful, married couple is infected, condoms could be useful.
Francis Arinze, 80, converted from animist beliefs to Catholicism at age nine. He was appointed cardinal in 1985. His name was floated in 2005 to succeed John Paul II. Arinze became known during the Nigeria-Biafra war in the late 1960s when, as Archbishop of Onitsha, he organized the distribution of food and medical supplies.
Other contenders who have been floated this morning:
Cardinal Tarsicio Bertone, 78, Italy. Cardinal Jorge Mario Bergoglio, 76, Argentina. Cardinal Timothy Dolan, 63, U.S. (New York). Cardinal Albert Malcolm Ranjith, 65, Sri Lanka. Antonio Cañizares Llovera, 67, Spain. Cardinal Norberto Rivera Carrera, 71, Mexico. Cardinal George Pell, 70, Australia. Cardinal Mauro Piacenza, 68, Italy. Cardinal Angelo Amato, 74, Italy. Cardinal Crescenzio Sepe, 69, Italy.
Pope Benedict XVI ranked in the No. 5 slot on Forbes' most recent list of the most powerful people in the world. (Courtesy: DM Online)
Latest Headlines in Sri Lanka