Lankan born man breaks own Guinness record for most needles in head
Posted by Editor on September 5, 2012 - 11:35 am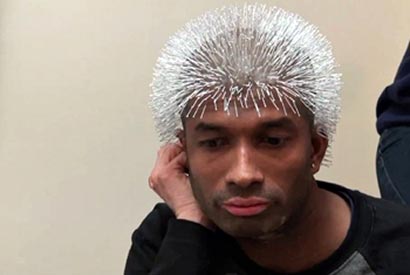 Mohanathas Sivanayagam marked the long weekend by sticking 2,100 acupuncture needles into his head. The 37-year-old is a father of three young boys and works in the trucking industry. He came to Canada from Sri Lanka when he was 23. He has a pleasant smile, a calm demeanour, and a love of record breaking. He already holds the Guinness world record for "most needles inserted into the head." It was a joyous celebration on Dec. 3, 2011, when he stuck the last of 2,025 acupuncture needles into his scalp, capturing the title from China's Wei Shengchu, who stuck 2,009 needles into his head in 2009.
Draped in a Canadian flag, Sivanayagam posed for photos, accepted a bouquet of flowers and a small trophy, smiling as the needles poked out of his head and the sides of his face. The certificate for the 2011 spectacle arrived last week. He already has it framed but decided to break the record with a 48-hour needle-sticking extravaganza to raise money for cancer treatment. Sivanayagam has vitiglio, a skin condition characterized by a loss of pigmentation, and he wanted to acknowledge the suffering of others with more critical problems.
"It helps him understand what other people are going through, and a lot of people have cancer throughout the world," his friend Kanujan Sriskantharajah said, translating Sivanayagam's Tamil to English. Starting Sunday at 2 a.m. at Pleasant Banquet Hall in Markham, he sat down and inserted each needle at a depth of 1.5 centimetres so it would not fall out. He took breaks so his hands wouldn't cramp. He ate sparingly because when his jaw moved, he could feel the needles moving — "slight pains," explains Sriskantharajah.
Everything was carefully documented, as per Guinness standards. After doing this for a while, the "head feels heavy," but he couldn't lie down or waver — passing out with thousands of needles in the scalp is admittedly dangerous. He drank 10 extra-large coffees. His friends came by and a homeopathic doctor checked his blood pressure. (The same doctor taught him how to insert the needles carefully before his 2011 attempt.) The pain is similar to a pinch, he said. He practises yoga, and tried to meditate during the exercise. When all the needles were out again, he swabbed his closely shorn head with rubbing alcohol.
He raised $12,000 and will now decide which organization to give it to. Sivanayagam has always dreamed of breaking or creating a Guinness world record. In 2005, he glued 12,000 pennies to the walls of a pizza shop at Birchmount Rd. and Lawrence Ave. He was going to call the restaurant "Penny Pizza" — but when he found out Guinness wouldn't accept that type of record, he decided to abandon the plan without selling a slice.
His next attempt was a seashell collection. On beach vacations in Malaysia, Cuba and Mexico, he collected interesting shells. He had 1,200 when he discovered that record wouldn't count, either. "All of our records must be measurable, verifiable, breakable and of worldwide interest. Both of those records were a bit too specialized for us to monitor," a Guinness World Records spokesperson wrote in an email.
The 2011 needle record was accepted, and he will send off the paperwork to have his new record approved. He would like to break more records and gain a profile so he can raise money for charities. Sivanayagam, who lives in Markham, says he is also trying to show the world that acupuncture needles are not painful. "When it comes to needles, people are scared," Sriskantharajah said. "If he can do 2,000, it will be really easy to insert 10 or 15," Metro News reports.
Courtesy: The Nation
Latest Headlines in Sri Lanka