Lankans need system review: Sangakkara
Posted by Editor on February 13, 2012 - 11:07 am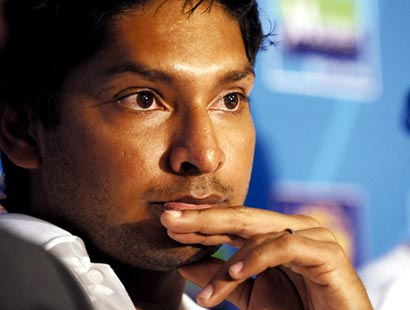 Stalwart Kumar Sangakkara wants an urgent review of Sri Lanka's cricket system, warning natural talent won't take the nation far enough.
As the Sri Lankans prepared for Tuesday's one-day international against India in Adelaide, Sangakkara said shortcomings in their cricket structure needed attention.
"It's very important to have great first-class structure, I think in Sri Lanka that is something to address very strongly," he told reporters in Adelaide on Monday
"That is one reason why Australia has been so good over the years, and I think that is an example that you can't dismiss.
"I think it's a case of where you really need to sit down and assess your first-class system and not just copy something, but take the lessons from it and adapt it to something that works really for you.
"In Sri Lanka we need to do that very quickly."
Sri Lankan's cricket landscape has long been overtly political, with Sangakkara among six one-day captains in the past decade.
The leadership returned to Mahela Jayawardene for the current tour following the resignation of Tillakaratne Dilshan.
"The way the players think and the way the people who make decisions sometimes don't add up," Sangakkara said.
"But that is the way cricket has always been. Dilshan unfortunately decided to resign and then we have gone back to Mahela, which at this time is probably a very good decision.
We need grounding and a tighter structure as to how we're going to progress over the next three years.
And once you have that set, I think it's going to be easier for anyone else like Angelo Mathews, who will probably take over," he said
Mathews, the current vice-captain, nearly lifted Sri Lanka to victory over Australia in Perth last Friday night with 64 from 76 balls.
But Sri Lanka ultimately fell five runs short to remains winless from two outings in the tournament.
"You have got to win a minimum of four games really to have any chance of qualifying for the finals," Sangakkara said.
"So we had better start winning soon … we should have been one-up by now and it's unfortunate that we aren't."
Source: AAP
Latest Headlines in Sri Lanka