LET'S BEGIN GROWING KARAPINCHA, SERE, DEHI IN HOME GARDENS AGAIN, SAYS BASIL
Posted by Editor on February 24, 2011 - 11:41 am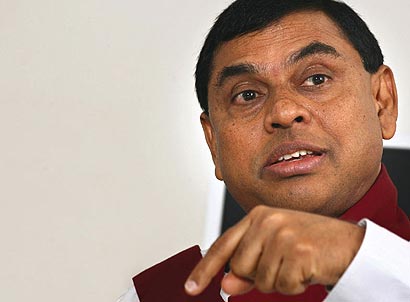 Attention has been focused on developing home gardens in a bid to address the rising cost of living, says Basil Rajapaksa, Minister of Economic Development.
The minister made this statement while addressing a function held in Colombo yesterday.
This function was held to launch an environmental management training programme for officials of the Ministry of Economic Development and to launch a CD on the environment of the Gampaha district.
"Traditionally we used to grow vegetables in our home gardens. But today we have developed a habit of going to the market to buy curry leaves (karapincha), lemon grass (sere) or even lime (Dehi). These were grown in our gardens. So we focused our attention on reintroducing this and protecting our traditional home gardens," said Basil.
"If we look at any district, unhealthy situations have arisen owing to industrialization and urbanization. So when we try to stop these things, large problems develop and we have to file lawsuits. I believe we need to use certain methods. I believe we shouldn't try to prohibit something that was done from the time of our forefathers at once, based on environmental reasons," said Anura Priyadharshana Yapa.
Courtesy: News First
Latest Headlines in Sri Lanka