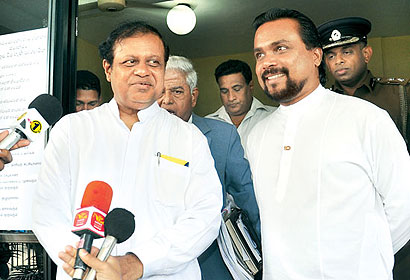 Elections Commissioner Dayananda Dissanayake yesterday announced that the Local Government election would be held on March 17 to elect 3,931 members for 301 Local Government bodies islandwide.
Over 20,000 candidates will vie for 301 slots in four Municipal Councils, 39 Urban Councils and 258 Pradeshiya Sabahas while over 12 million voters will be eligible to cast their ballot.
Acceptance of nominations from recognized political parties ended at noon yesterday without any major incident while acceptance of deposits from the independent groups conducted at noon Wednesday.
A number of nomination lists from many recognized political parties and independent groups were rejected by the Returning Officers and Assistant Elections Commissioners due to various discrepancies in the nomination lists.
Several nomination lists of UPFA and UNP were rejected as the names of the candidates were not attested by a Justice of the Peace or Commissioner of Oaths.
In the Colombo District, nomination list submitted by the UNP for Homagama PS was rejected while the JHU list for the Maharagama PS was also not accepted due to errors in the nomination papers.
The UNP also raised objections against the UPFA nomination list for the Maharagama Urban Council without success.
UNP nomination lists for Baddegama PS, Eravur UC and Warakapola PS were rejected while UPFA nomination lists for 16 Local Government bodies in the Jaffna District, Akmeemana, Siyabalanduwa, Moneragala and Polgahawela, Yatinuwara, Wigamuwa and Pallepola PSs failed to pass muster.
The nomination lists by the UNP and the UPFA for the Embilipitiya PS were rejected by the District Returning Officer.
The TNA nomination lists for Poonekery and Pachchiyapalli PSs in the Kilinochchi District also failed to go through. The JVP nomination list for Wilgamuwa and Nattandiya PSs and the SLMC list for Ukuwela PS also failed to receive endorsement. In the Ratnapura District the UNP list for Weligepola PS had been rejected. The nomination lists submitted by the SLMC for Akurana PS in the Kandy District also suffered the same fate.
No official declaration with regard to the acceptance of nominations was made by the Elections Department at the time of going to press.
The first nomination list was presented by Janasetha Peramuna led by Ven Battaramulle Seelarathna Thera for the Kesbewa and Homagama PSs.
The Elections Commissioner last week turned down all application for the registration of new political parties on the grounds that these parties have not met the criteria laid down by the Department.
Elections will also be held in the newly established Local Government bodies. Kaduwela, Dambulla, Akkaraipattu and Bandarawela Urban Councils which were elevated to the status of Municipal Councils while Eravur PS became an UC. New Pradeshiya Sabhas were created in Narammala, Irakkamam and Lunugala.
Source: Daily News