DO IT OR DEPART, JAYALALITHAA TELLS MANMOHAN SINGH!
Posted by Editor on January 28, 2011 - 11:31 am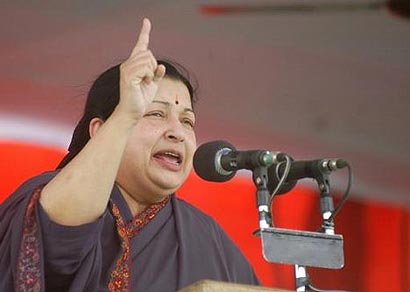 J. Jayalalithaa, leader of the Anaitha India Anna Dravis Munnethra Kalaham (AIADMK) party has demanded that Indian Prime Minister Manmohan Singh step down if he is not capable of finding a solution to end the mid sea attacks on Indian fishermen, says the Times of India.
Jayalaithaa had said that the reason for continuing attacks on Tamil Nadu fishermen was, 'A weak government and a weak and non performing prime minister'.
In her statement to the Times of India, she had further stated that the Centre and state government had failed to protect the fishermen, adding that the root cause of the problems faced by Tamil Nadu fishermen was the ceding of the Katchatheevu islet to Sri Lanka in the 1970s.
According to the Times of India, Jayalalithaa had also demanded that the island be retrieved from Sri Lanka so that Indian fishermen could fish in those waters. Meanwhile, a group of Tamil Nadu fishermen engaged in a protest yesterday stating that they are being harassed by the Sri Lankan Navy.
According to South India's Sun TV, fishermen from 11 locations had engaged in this protest abstaining from their daily work.
Fishermen from the areas of Kanya Kumari, Tuticorin and Ramanadanpuram in Tamil Nadu are engaged in the protest.
They demanded that they be provided with adequate security.
Courtesy: News First
Latest Headlines in Sri Lanka