Lorry-lorry collision: Child among six killed
Posted by Editor on October 6, 2011 - 4:10 am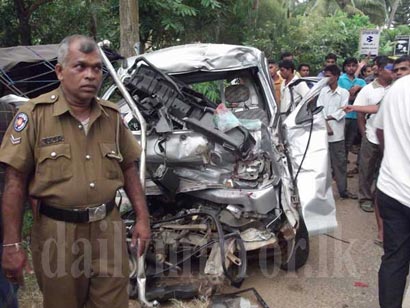 Six people, including a child, died in an accident involving two lorries at Wariyapola town in the Kurunegala district yesterday afternoon, Police said.
A small lorry collided with a bigger lorry transporting asbestos in front of the Wariyapola police station. The small lorry was heavily damaged in the accident.
The injured had been rushed to the Wariyapola hospital. Three had died on the spot and the other three succumbed to their injuries after being admitted, hospital sources said.
The dead included three women, one female child and two males believed to be from the same family from the Maspotha area.
Both the driver and assistant of the bigger lorry had escaped unhurt. The Police have taken into custody the driver of the lorry.
Courtesy: Daily News / Pix by DM Online
Latest Headlines in Sri Lanka