Lorry, Podi Menike collision leaves two dead
Posted by Editor on June 29, 2013 - 6:10 am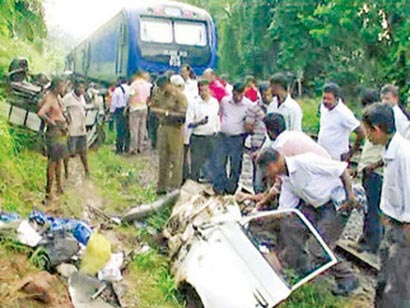 Two people died when a lorry collided with the Podi Menike express train at an unprotected railway crossing in Wijayarajadahana Ambanawathuyaya yesterday, the Police said.
The train was heading to Badulla when the accident occurred around 7 a.m yesterday. The two people in the lorry died on the spot. The victims were identified as W. Nimal Seneviratne (54) and B. P. Sarath (49) of Mawanella.
The railway crossing does not have a gate or lights except for a warning notice. A group of school children who were walking on the road at the time of the accident had shouted and warned about the approaching train, but the lorry had already crossed the railway line. The lorry was thrown into the air after the collision. The postmortems of the victims were to be held at the Wathupitiwala Hospital yesterday. Meerigama Police is investigating.
(Courtesy: Daily News)
Latest Headlines in Sri Lanka