LOWER INTEREST AS ECONOMIC SPUR
Posted by Editor on September 24, 2014 - 9:52 am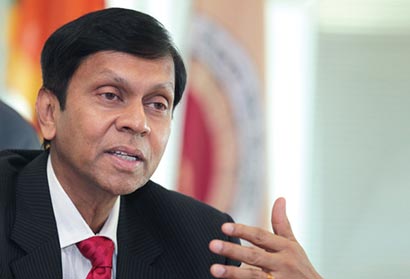 In a move aimed at stimulating the economy expected to grow at 7.8 percent this year, the Central Bank yesterday announced efforts to make commercial banks lower their interest rates and increase lending — while keeping its own policy lending rate unchanged.
Currently, commercial banks lending rates are above 13 percent.
According to the Central Bank the low deposit rate would now pressure banks to increase their lending to customers.
"We see so much liquidity remaining in the system without being utilised for economic activity," Central Bank Governor Ajith Nivard Cabraal said. "With this move we expect banks to lend at cheaper rates."
It also restricted commercial banks use of its standing deposit facility (SDF) to three times a calendar month at the current 6.50 percent rate, and announced that further deposits would only receive five percent.
With treasury yields at below 6.3 percent, the 6.5 percent deposit rate had presented banks with a profitable arbitrage opportunity, but the lower deposit rate will now pressure them to boost their lending to customers. The Central Bank stated that its moves are aimed to encourage banks to lend to the "private sector at more reasonable interest rates, and thereby support the growth momentum of the economy, given the low inflation environment." For the remainder of September, banks can only use the standing deposit facility twice, the statement added.
The Central Bank also suspended the daily auction facility with effect from Tuesday.
(Daily News)
Latest Headlines in Sri Lanka