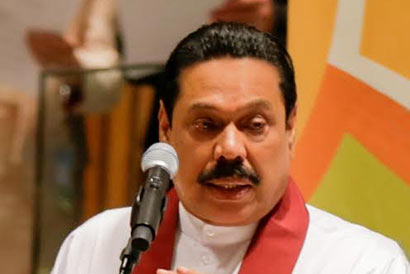 President Mahinda Rajapaksa arrived at the UN Headquarters in New York this morning to participate the United Nations Climate Summit 2014 . UN Secretary-General Ban Ki-moon is hosting this Climate Summit from September 23, 2014, to engage world leaders from government, finance, business and civil society to catalyse climate action.
UN Secretary General directed a missive to President Rajapaksa in last February, inviting the Sri Lankan leader to attend the event. Approximately 120 heads of state and government were reported to be in attendance at the Summit, which is considered to be the largest gathering of world leaders in the history of climate change talks. Leaders from all sectors – government, business, finance and civil society were also invited for the UN Climate Summit to make bold commitments to action in eight identified critical areas: Agriculture, cities, energy, financing, forests, industry, resilience and transportation.
Addressing the Climate Summit, President Rajapaksa said the UN framework convention on climate change is the primary inter governmental forum for addressing the global response. The world should focus serious attention on health of the global environment today. The danger forced by climate change is current emergency. The principals of equity and common but differentiate responsibilities and respective capabilities must guide the world in search for solutions. This challenge is universal and must be addressed collectively and multi dimensionally. The clean development mechanisms to reduce green house gas emission are imperative. Developed countries must implement their commitment to the developing countries by providing financial and technical support. All parties to the convention must expedite domestic preparations although Sri Lanka was able to triple its per capita income within the last eight years its per capita carbon emission is still less than one metric ton.
According to disciples of Buddha the earth and its vegetation do not belong to rulers. They are only temporary trustees who have to protect the environment for the benefit of future generation. The President further said that Sri Lanka ratified UN climate change convention in 1993 and acceded to Kyoto protocol in 2002 and added that the present government has given priority to address climate change and other related problems under the Mahinda Chinthana policy.
President Rajapaksa is seen having a casual conversation with Prince Albert II, Head of State of the Principality of Monaco and the Prime Minister of Spain Mariano Rajoy, during the United Nations Climate Summit 2104 at the UNHQ in New York.
– by Janaka Alahapperuma – Pix by: Sudath Silva