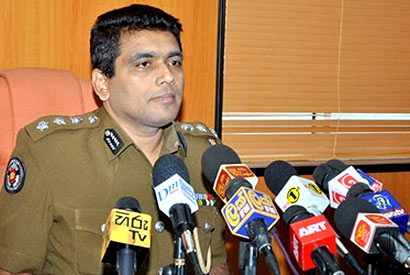 Three most wanted LTTE leaders arrested by the Malaysian Police, on a request by the Sri Lanka Police under Red Notice, were brought to the country by a special Sri Lanka Police team that visited Malaysia.
The three LTTE leaders arrested in Malaysia are Sangaliraj Gioshanthan, Mahadevan Kiribakaran and Selvthurai Kiribavan. The names of the three LTTE leaders were released by Police Spokesman Senior SP Ajith Rohana at a press conference at Police Headquarters yesterday.
The three LTTE leaders are held under Detention Orders pending the completion of investigations, the Police Spokesman said.
SSP Rohana thanked the Malaysian Police for assisting the Sri Lanka Police to arrested the three LTTE suspects. He warned Sri Lankan Tamil youth to beware of the machinations of LTTE sympathiers and not fall prey to the tactics adopted by them to lure them towards illegal activities
Meanwhile, the Malaysian Police following the arrest of the three LTTE members have launched an operation to hunt down more members of the group, Malaysian media reported.
Following the arrest the Bukit Aman Special Branch Counter Terrorism Division of Malaysian Police is hunting down more suspected members of the LTTE who are believed to be hiding in the country.
Inspector-General of Police Khalid Abu Bakar said the arrested men had been in Malaysia since 2004 after entering the country illegally. Initial investigations have found that the suspects had used Malaysia as a base to collect data and spread propaganda, while trying to revive the defunct LTTE terrorist group at the international level.
Khalid said all suspects were registered with the United Nations High Commissioner for Refugees (UNHCR) and used UNHCR cards to stay in the country and to avoid legal action by the local authorities.
The official said the police would work closely with the UNHCR Office to ensure that terrorists would not exploit and abuse the UNHCR cards to turn Malaysia as their operation base or to carry out terrorism activities, which could pose threats to Malaysia or other countries. Meanwhile, the UNHCR has promised to perform a close and full examination of all facts following the detention of the LTTE members who possessed the UNHCR cards.
"Given the seriousness of these issues, a close and full examination of all facts would need to be undertaken," UNHCR spokesperson Yante Ismail has said.
The spokesperson has said that the agency cannot comment specifically on the case as it is their policy everywhere in the world not to publicly discuss individual cases.
However, if there are allegations of crimes committed in Malaysia by refugees or asylum-seekers, UNHCR would expect that they would be subject to the full due process under law like any other person, Ismail has said.
Since 2009 Malaysian police had detained eight LTTE members, including a man believed to be the second in command of the group and all have been deported to Sri Lanka to face prosecution for terrorist acts.
(Daily News)