UNP will abolish Govt.-IMF pact to scrap free eduation – Ranil
Posted by Editor on May 28, 2014 - 7:56 am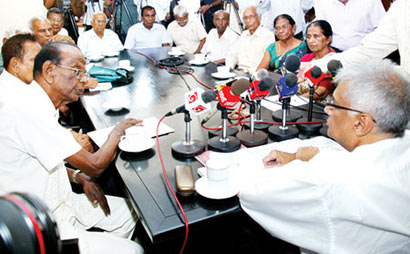 An International Monetary Fund (IMF) delegation was currently in Sri Lanka to monitor the government's agreement with it to abolish free education but a future UNP administration would abrogate all such treaties with global organizations, Opposition Leader Ranil Wickremesinghe said yesterday.
He told a group of retired educationists who had met him in Colombo to express concerns about the Rajapaksa regime's policy of gradually reducing the education budget with a view to doing away with it altogether.
It was the UNP which had introduced free education and it would do all in its power to ensure that the masses were not denied the benefit of it.
"I am a product of Sri Lanka's free education system and know the value of it. Obviously, the Rajapaksa's cannot comprehend it and that is why an IMF delegation is currently in Sri Lanka to monitor the implementation of the Memorandum of Understanding (MoU) that it had entered into to gradually reduce the state's financial allocation for education. But a future UNP government will abrogate all such treaties, Wickremesinghe said, adding that at the UNP's last party convention it was resolved that a minimum of six percent of GDP would be allocated for education under a future UNP government.
The Opposition Leader pointed out that UNP governments had not reduced the education budget even during the height of the war. "I remember a former Defence Minister proposing that finances for education be curtailed, but the then President J. R.Jayewardene shot down the proposal."
Admitting that the UNP had its differences with the former President Chandrika Kumaratunga, the UNP National Leader noted that even she had refused to reduce the financial allocation for education.
When a UNP MP had questioned the Education Minister in Parliament recently on the cuts that were affecting even rural schools, the Minister had simply laughed it off. That showed how lightly the Rajapaksa regime took even a vital issue such as the curtailment of funds for education, the Opposition Leader said.
(Courtesy: The Island)
Latest Headlines in Sri Lanka