LTTE Resurrection, Hawala money transfer & how many more Gobi's are out there?
Posted by Editor on April 12, 2014 - 9:07 am
There was a sigh of relief throughout Sri Lanka when the announcement that fugitive Gobi and accomplices were shot dead in the jungles of Padaviya on Friday 11th April 2014. The incident coming 5 years after the end of the elimination of ground force of the LTTE draws attention to some key factors.
1. TNA & International Community wrong : Attempts to resurrect LTTE remains alive: That Gobi was not a long LTTEr is proved by his links to 2 other LTTE members who were also shot dead – Sundaralingam Kajeepan Thevihan (who was involved in aerial attacks on Anuradhapura Air Base and Kollonnawa Petroleum Storage in year 2007), Navaneethan alias Appan.
2. Questions how many 'civilians' or LTTE members the Sri Lankan troops saved: This question has never been explored but it is time we should. That Sri Lanka's army saved close to 300,000 Tamils during the last stage of the war raises the question of how many of them were actually 'civilians' in a definition that requires civilians to be only those who had not engaged in any assistance direct or indirect to the LTTE. No one is able to give the answer. No one is able to clearly say how many civilians died in the final stage either for they cannot honestly admit that these civilians did not take part in hostilities for the UN Secretary General himself is on record asking LTTE not to use civilians for terror activities. With this fact looming before us it answers the question as to why the sudden resurgence of LTTE members are those who had not surrendered or been caught by the army and sent for rehabilitation. Our next question is how many other 'civilians' are there in the North and even elsewhere in Sri Lanka who were LTTE but pretended to be civilians and many of these are likely to have been recipients of even homes gifted by the State.
3. Presence of National military a MUST: Numerous attempts have been made to demand the removal of the military from the North exerting so much pressure short of bribing tweaking of UNHRC Resolution if forces were removed. Juxtapose the removal with the current scenario of LTTErs posing as civilians remaining at large and Sri Lanka will be walking into another mine of trouble. This is obviously what numerous foreign intelligence now working on the ground with remnants of the LTTE are upto. Who are these foreign intelligence? It is a good time for public officials and Government ministers to seriously sit down and address the context of the decisions they take in giving projects and investments to countries that have armed and funded LTTE over the years and how far the 'officials' they send are not linked up with these LTTE remnants or trying to rope in youth for a 2nd wave of trouble. It is in this light that the majority populace are extremely disappointed that the GOSL has not taken a principled stand and declared that Sinhalese and Muslims have every right to make the North their home by taking up residence, purchasing property and running businesses. It is time that the international community and the TNA are told quite clearly that the North is not for Tamils only and belongs very much to Sri Lanka and as such Sinhalese and Muslims have every right to live there and they do not need to take permission from the TNA or its Chief Minister or Western Governments or the Catholic Church.
4. Local Tamils helped catch Gobi and others: In what the Army can boast as breaking barriers is the manner that after 30 years the locals had helped locate these LTTE fugitives. It was on the news from local Tamils that search operations were carried out. It was with the help of the Tamils that Gobi and others were cornered and this is obviously a slap to the TNA and certain members of the international community who are continuously trying to project a notion that the Army is not wanted in the North. The TNA and numerous other parties linked to the LTTE over the years had accelerated a propaganda that neither the Army or the Governor or even Sinhalese are welcome in the North while instances such as this are poignant to show that it is only a handful that hold such diabolical views while the majority of people in the North are now realizing the folly and moving away. It is no better a time than now that these Tamils start to build a new political party that would not canvass people against the majority but begin to build bridges. Obviously TNA is now a defunct party.
5. LTTE / LTTE front ban / 424 individuals & Organizations named calls for COOPERATION of Western nations and India: With the ban by GOSL and the fact that Gobi and team were sent orders from Nediyavan operating from Norway requires full diplomatic pressure upon these Western governments harboring leaders and key kingpins of the organizations banned. Diplomatic letters must go out immediately to investigate these banned entities on the fundraising and other activities they have been involved in, in addition to projecting themselves as angels of charity and giving a quota of what they have raised for terror towards some charity outfit simply to buy themselves some grace. This charade has gone on for far too long and they need to now be exposed and arrested and even the foreign parliamentarians and foreign organizations linked to these entities must have their bank accounts investigated as well.
6. NGO 'missing' mine detectors : The report of an NGO claiming to have had its mine detectors stolen and several of these mine detectors  found at the residence of R. Madani of Vishvamadu and no guessing that she was a former LTTEr. The next mine detector (serial number N 21838) was found in the home of the 'human rights activist' the now globally famous Balendran Jeykumari on 13th March 2014. This takes us back to times when NGO equipment and vehicles that suddenly went 'missing' and were helpful to LTTE to make bunds, bunkers etc. It also raises once again the question of LTTE links to foreign NGOs which are invariably funded by foreign governments and questions the modus operandi behind their so called 'humanitarian' and 'charity' cause. The Modern Day Mercenaries: LTTE – Foreign NGO links revealed – http://www.defence.lk/ new.asp?fname=The_Modern_Day_Mercenaries_LTTE_ Foreign_NGO_links_revealed_20121213_07 By David Ferguson
7. Hawala money transfer : If we had been wondering how LTTE has been dealing in money and handing bundles amongst their own, it is now revealed that the LTTE like most other terrorist organizations have turned to an ancient money transaction system known as the Hawala. Hawala is an age-old, secretive, and globe-spanning banking system developed in Asia and has come to also be defined as 'Islamic banking'. "Hawala" consists of transferring money (usually across borders and in order to avoid taxes or the need to bribe officials) without physical or electronic transfer of funds. Money changers ("Hawaladar") receive cash in one country, no questions asked. Correspondent hawaladars in another country dispense an identical amount (minus minimal fees and commissions) to a recipient or, less often, to a bank account. E-mail, or letter ("Hundi") carrying couriers are used to convey the necessary information (the amount of money, the date it has to be paid on) between Hawaladars. The sender provides the recipient with code words (or numbers, for instance the serial numbers of currency notes), a digital encrypted message, or agreed signals (like handshakes), to be used to retrieve the money. Big Hawaladars use a chain of middlemen in cities around the globe. Hawala arrangements are used to avoid customs duties, consumption taxes, and other trade-related levies. Suppliers provide importers with lower prices on their invoices, and get paid the difference via Hawala. Legitimate transactions and tax evasion constitute the bulk of Hawala operations. Modern Hawala networks emerged in the 1960's and 1970's to circumvent official bans on gold imports in Southeast Asia and to facilitate the transfer of hard earned wages of expatriates to their families ("home remittances") and their conversion at rates more favourable (often double) than the government's. Hawala provides a cheap (it costs c. 1% of the amount transferred), efficient, and frictionless alternative to morbid and corrupt domestic financial institutions. It is Western Union without the hi-tech gear and the exorbitant transfer fees. Pakistani Hawala networks alone move up to 5 billion US dollars annually according to estimates by Pakistan's Minister of Finance. "Hawala remains a significant method for large numbers of businesses of all sizes and individuals to repatriate funds and purchase gold…. It is favoured because it usually costs less than moving funds through the banking system, it operates 24 hours per day and every day of the year, it is virtually completely reliable, and there is minimal paperwork required." (Organisation for Economic Co-Operation and Development (OECD). Hawala hurts the national economies of developing countries desperate for foreign exchange deposits, but every individual in the chain has the incentive of earning a commission. And that's what keeps the networks going.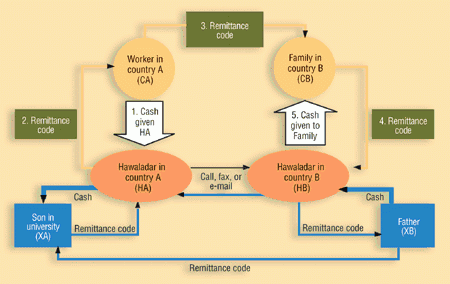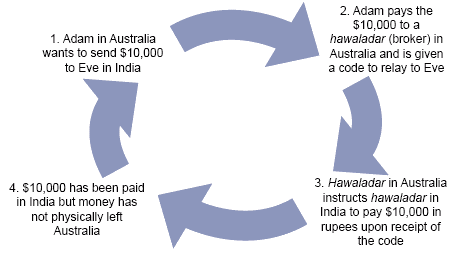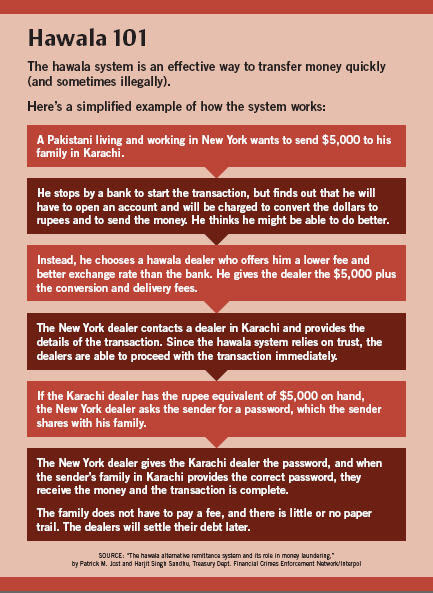 Additional reading on hawala :
The challenge before law enforcement in Sri Lanka in particular the Government is not to be rattled by the calls and threats by the international community who really have no moral right to be making such calls in view of their own covert actions in destabilizing nations through NGOs, Church lobbies and bribing local groups and entities. Those on such payroll should ideally be investigated and exposed before they get up to irreversible mischief. What the Government also needs to immediately do is to direct the External Affairs ministry to appraise the UN and all diplomatic missions of the revival attempts by the LTTE. We do not need to give excuses or seek permission from either the UN, UN Secretary General, Navi Pillay or foreign leaders to station our troops wherever security demands such. Therefore, there is no requirement to even mention the plans to deploy troops and seek permission for such. Did US and UK and NATO seek permission from the world to invade and occupy nations? Additionally, what must be done immediately is to take the ban the full length by asking our envoys to request the governments they are stationed in to investigate the entities that are now gazette including the individuals as well as investigate the foreign partners, associates and their accounts for how far their allegiance has been in monetary terms. We would then realize why Weiss, McCraes, Harrisons etc are so obsessed about Sri Lanka and there has to be a long list of other recipients of the LTTE hawala system too.
– by Shenali D Waduge
Latest Headlines in Sri Lanka