LTTE still wants North-East of Sri Lanka – India
Posted by Editor on December 16, 2014 - 10:33 am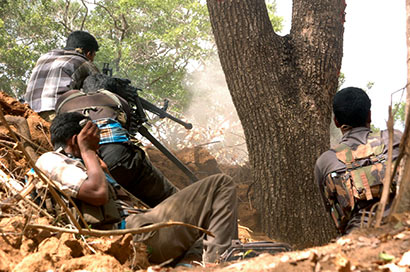 While seeking to extend the ban on the Liberation Tigers of Tamil Eelam (LTTE), the Indian Centre and the Tamil Nadu government told a tribunal that the banned outfit nurtures an idea of "greater Tamil Nadu, which includes the state of Tamil Nadu, part of Kerala, part of Karnataka, part of Andhra Pradesh and North-Eastern provinces of Sri Lanka".
The tribunal was also told that an offshoot of the banned terrorist outfit carried out a blast outside the home of former UPA minister P Chidambaram and tried to target the home of V Narayanasamy in Tamil Nadu.
The Delhi High Court tribunal was set up earlier this year to review whether the ban on LTTE should be renewed for another five years. On November 20, the tribunal, headed by Justice G P Mittal, upheld the Home Ministry's notification to declare the LTTE as an "unlawful organisation" for the next five years.
MDMK chief Vaiko, who walked out of the NDA recently, had argued against the government's decision to extend the ban.
To support its claim that LTTE posed a danger to India, the state government said that in March this year, two members of the Tamil National Liberation Army — said to have close ties with the LTTE — blasted an iron pipe bomb near Chidambaram's residence in Tamil Nadu and threw pamphlets to support the ideology of their founder-leader, the late Tamilarasan. A similar pipe bomb was found outside the residence of former UPA minister Narayanasamy.
As per the tribunal's order, the Tamil Nadu government had said, "The LTTE, even after its military defeat in May 2009 in Sri Lanka, has not abandoned the concept of separate nation for Tamils… Lifting of the ban on LTTE would imply allowing a deadly foreign terrorist organisation to operate from India… giving a psychological boost to LTTE as well as the secessionist Tamil forces in India." The state added that after the ban on LTTE in 2012, as many as five new cases had been registered against the outfit.
The MHA also said LTTE has links to other anti-national organisations, like the UK chapter of Jammu Kashmir Liberation Front, Kesari Lehat Movement, Sikh Activist Network, etc, Indian Express reports.
Latest Headlines in Sri Lanka