Lumumba University honors President Rajapaksa with a Doctorate in Moscow, Russia
Posted by Editor on February 7, 2010 - 4:41 am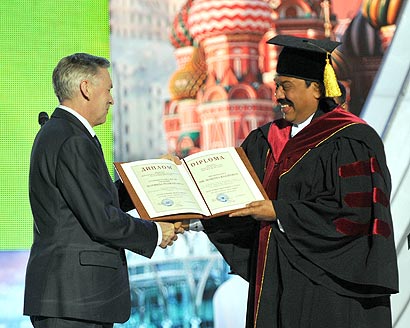 Onlanka News – By Janaka Alahapperuma – (Pix by: Sudath Silva)
Sri Lanka President Mahinda Rajapaksa was awarded a Honoris Causa Doctorate by the Peoples' Friendship University (PFU), formally known as Patricia Lumumba University of Moscow in Russia on Saturday 6th February 2010 at 6.00pm.
The PFU is celebrating its Golden Jubilee and to mark the anniversary it has been decided to award the Honorary Doctorate to President Rajapaksa for his contribution for world peace and outstanding success against defeating terrorism. The award ceremony was held at the conference hall of the Great Kremlin Concert Hotel in Moscow.
Head of the University Rector Professor Vladimir M. Filippov presented the President with a diploma at the ceremony. President Rajapaksa addressed the audience following the conferment. The conference hall was fully packed with more than 6000 invitees from over 100 countries. Several world leaders, including Guyana President Bharrat Jagdeo also attended the ceremony.
The People's Friendship University (PFU) was established by the former USSR government on 5th February 1960. On 22nd February 1961 it was named after Patricia Lumumba, a political and public figure, a poet and also the head of the first Peoples' Democratic Government of Congo. The university was re-named as "Peoples' Friendship University of Russia on 5th February 1992. Since 1995 PFU has awarded 'Doctor Honoris Causa' to distinguished persons for outstanding academic achievements in the fields of science and education and to world leaders in recognition of their contribution towards fostering world peace. The awardees include five (5) Presidents and two (2) Prime Ministers from around the globe.
The official letter informing of the awarding of this degree was handed over to President Rajapaksa by Minister of Foreign Affairs of the Russian Federation, Sergey Lavrov, during their meeting when he visited Sri Lanka recently. President Mahinda Rajapaksa will meet the Russian President Dmitry Medvedev on Monday. Also on the same day at the Russian Ministry of Finance, there will be a US$ 300 million credit line signing ceremony. President Rajapaksa is also scheduled to hold bilateral talks with former President and the present Prime Minister of Russia Vladimir Putin, other government officials and the business community.
The President's entourage includes Madam Shiranthi Rajapaksa, Foreign Minister Rohitha Bogollagama,Minster of Export Development & International Trade Prof.G.L Peiris, Minister of Mass Media & Information, Enterprise Development & Investment Promotion Anura Priyadarshana Yapa, Education Minister Susil Premajayantha, Minister of Power Mahindananda Aluthgamage, Leader of the National Freedom Front MP Wimal Weerawansa and the Secretary to the President Mr.Lalith Weeratunga.
Russian language speaking Sri Lanka's Ambassador in Moscow Udayanga Weeratunga will host a reception at the Ritz Carlton Hotel and the 62nd Independence Day celebrations during the President's visit to Russia.
Latest Headlines in Sri Lanka