Madhya Pradesh police not aware about Lankan President visit
Posted by Editor on September 6, 2012 - 8:38 am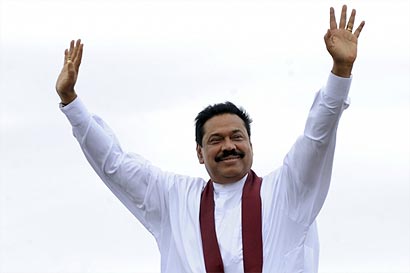 BHOPAL: The Madhya Pradesh police department still has no official intimation about the scheduled visit of Sri Lankan President Mahinda Rajapaksa to the state capital on September 21 for the foundation laying ceremony of a Buddhist university at Sanchi in nearby Raisen district.
When TOI approached the police department with queries about security arrangements of VVIPs arrival for the International Dharma-Dharma Sammelan scheduled for September 22-23, the state police department said the programme was yet to be finalised.
When the VVIPs arrive, they will be provided complete security by the state police department. But the department has not received any official notification from the government yet about the arrival of President Rajapaksa and the other dignitaries," said inspector general (law and order) S K Pandey.
Once the official confirmation is passed on to us, the department will arrange for security arrangements for the international political and religious leaders," Pandey said. The IG for law and order explained that there was no requirement for additional forces from the Centre to manage the Dharma-Dharma Sammelan which is being jointly organised by the Madhya Pradesh department for culture and the Mahabodhi Society of Sri Lanka. "The state police is capable of handling the situation," Pandey added.
Meanwhile, an official press note of the state government informed that chief secretary R Parasuram reviewed preparations being made for bhumi poojan to be held for Buddhist University at Sanchi on September 21 and Dharma-Dhamma Sammelan to be held at Bhopal on September 22-23. The high-level review meeting was held at Mantralaya here on Wednesday.
Discussions were mainly held at the meeting on arrangements to be made for welcome of Sri Lankan President, Bhutanese Prime Minister, seating arrangements at functions to be held at Sanchi and Bhopal, parking arrangements, lodging, food and security arrangements of delegates.
On August 29, the state minister for culture Laxmikant Sharma had officially declared the arrival of Sri Lankan President Mahinda Rajapaksa and Bhutanese Prime Minister Jigme Yoser Thinley along with scholars, religious heads and philosophers of 22 nations including Britian, Vietnam, China, Israel, Indonesia and Japan for the Dharma Dharma meet.
According to Laxmikant Sharma the foundation stone-laying of the Buddhist University by Rajapaksa will be performed at Sanchi in Raisen district on September 21, 2012. Madhya Pradesh government will spend Rs 200 crore on the construction work.
Source: Times of India
Latest Headlines in Sri Lanka