Mahela hails team's fighting spirit
Posted by Editor on March 9, 2012 - 8:01 am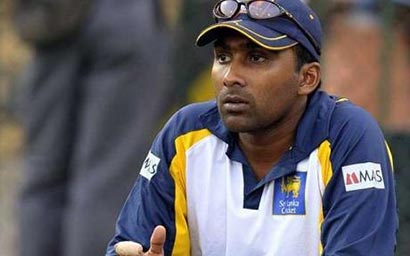 Sri Lankan skipper Mahela Jayawardene was proud of his team even though it lost the Commonwealth Bank one-day tri-series to Australia in Adelaide.
"I am a hard taskmaster. I am quite happy and proud the way the boys played… very consistent. Under pressure we have handled a lot of situations really well. Even with injuries we had the guys who came in put their hand up and performed," said Jayawardene after his lost the third final by 16 runs.
"And so quite happy with everything, but we are here to get a job done, which is to win a tournament. Credit to the Australians. They played better cricket than us today. They handled situations better," he added.
Jayawardene was delighted at the manner his young wards have coped with the situations in the series.
"I think we did a lot of good things. As a unit we played together pretty well. We executed a lot of game plans. A lot of the youngsters would have taken a lot out of this tour.
They have had some really good exposure to some tough games. All and all it's been a successful tour, but it would have been brilliant if we had won.
"I thought we did really well to keep them to 230. They could have easily got 260. We managed to get them back. The partnership between Brett Lee and Mckay was disappointing. They batted really well. Probably there it went for us wrong a little bit after the initial wickets we got.
"The only thing we didn't do well was partnerships up front, which we have been consistently putting up in the tournament. Losing four wickets up front didn't help the cause. When you are chasing totals, it is important you keep wickets in hand. That's probably where we went wrong."
Jayawardene claimed his side seems to be doing very well in big tournaments.
"If you take the overall thing, it can be very disappointing, in saying that we haven't won the finals. But the brighter picture is that we have been very consistent for the last 10 years or so. In all big tournaments. We won the Asia Cup and apart from that everything else. Even in the last Twenty20 we were in the semi-finals in the Caribbean.
"So that's what you need from a team to be consistent. Being there and thereabouts all the time, and being competitive. As long as we continue to do that we are very happy.
"As a team, as a captain, I am not disappointed because when we came to Australia we were not given any chance of getting anywhere, but we showed a lot of character. In tough situations, we played some good cricket. And it's not easy when you have a new captain and a new coach and a new way of thinking as well, for the guys to get used to that."
Jayawardene said his side always appeared to do well in Australia.
"Every time we have been in Australia we have always left a good impression. We have played some rally good cricket. And I don't know why. Maybe the crowd, maybe something else, but it's always a challenging tour for us, and we have always risen to the occasion.
"I have always complained last 10 years that I have never been able to play a test match in Melbourne or Sydney, so played everywhere else in the world, but I have played only four Test matches in my 14 years now in international cricket in Australia.
"In a way it is a disappointment, but hopefully I will be there for the three Test matches. I don't know. Like I said it's a long way away. It's a great opportunity for the Sri Lankan to come and play a Boxing Day Test and a New Year's Test. Hopefully, we will enjoy it as much as we did this time."
Rediff.com
Latest Headlines in Sri Lanka