Maithri says Mahinda won't be UPFA's PM candidate
Posted by Editor on June 18, 2015 - 9:05 am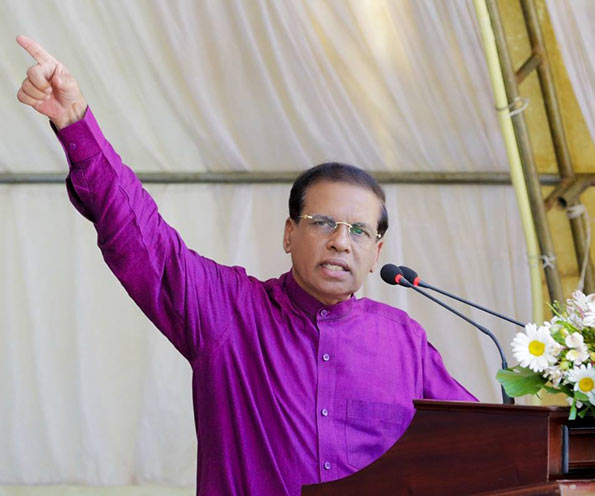 President Maithripala Sirisena will never field former President Mahinda Rajapakasa as the UPFA's prime ministerial candidate, according to highly placed SLFP sources.
In response to calls from some SLFP stalwarts at a meeting, at the Sri Lanka Foundation Institute, presided by President Sirisena, for naming Rajapaksa the UPFA prime ministerial candidate, a six-member committee was appointed on Tuesday to study the issue.
The members of the committee were MPs Susil Premajanayatha, Kumara Welgama, John Seneviratne, Anura Priyadashana Yapa, Dilan Perera and T. B. Ekanayake.
The committee had its first meeting on Tuesday night itself at former Minister John Seneviratne's Colombo residence. While the committee members were discussing the matter a message was conveyed to them that President Sirisena was no amenable to the proposal to field Rajapaksa as PM candidate.
President Sirisena had intimated his decision to Rajapaksa though a family member of the latter, SLFP sources said. Rajapaksa had informed Sirisena through the same person that he would field a separate team at the next parliamentary election if he was not allowed to contest on the UPFA ticket as the coalitions PM candidate.
Sources close to President Sirisena told The Island last night that the appointment of the committee had irked those who had thrown their weight behind him in the presidential race. Some of them had attended a hurriedly summoned meeting in a Colombo suburb to discuss the issue and decided to oppose the moves to bring back Rajapaksa, sources said, adding that the President was under tremendous pressure not to accommodate Rajapaksa.
President Sirisena has informed former President Rajapaksa that he has no objections to the latter playing a key role in the UPFA campaign at the next general election without contesting.
Former Minister Welgama, at Tuesday's meeting attended by the SLFP MPs, Provincial Councillors and Local Government members, urged the two leaders to iron out their differences so that the UPFA could win the next election with ease.
A senior SLFP MP said the committee was a nonstarter.
(Source: The Island)
Latest Headlines in Sri Lanka