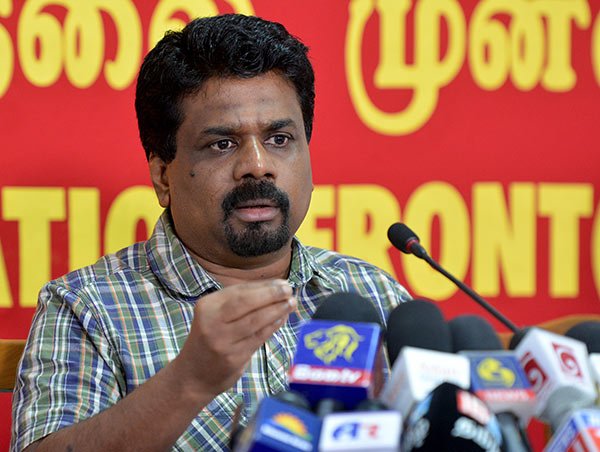 JVP leader Anura Kumara Dissanyake speaking at a meeting in Tangalle said that the Tri-Forces should come forward because the Constitution is not upheld. The Tri-Forces must support the parties that protect the Constitution and not the parties that cause its desecration.
At the moment, there exists in the country a pseudo prime minister and a pseudo cabinet. The ministers of this pseudo cabinet do not attend Parliamentary sessions. As such, rules and regulations cannot be passed. The present pseudo regime has not been recognised by international leaders around the globe, the JVP leader said.
If any party shows a majority of 113, that majority has been obtained by offering bribes. The JVP will put an end to the present conspiracy and urge for dissolution of the present regime and holding of a general election to obtain the people's mandate, he said.
Dissanayake said there is no necessity for the JVP to make either Ranil Wickremesinghe or Mahinda Rajapaksa the prime minister of the country. He said that if they allow President Maithripala Sirisena to destroy or curtail the provisions of the Constitution, future presidents will also do the same thing.
The JVP leader said the sole aim of Mahinda Rajapaksa was to crown Namal Rajapaksa and make him ether the prime minister or president of the country when the time is ripe. He said Mahinda Rajapaks's wife also dreams of such an eventuality.
(Source: Daily News)